Solar reaches half a million arrays milestone
As we reported back in November, the UK solar industry was about 40,000 installations away from hitting the half a million milestone for the number of solar arrays installed on UK rooftops. Fast forward just two months and it would appear that magic figure has now been reached, with the publication of DECC's latest installation figures.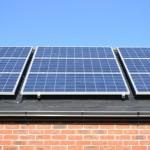 According to figures from the Department of Energy and Climate Change (DECC), as of January 5th 2014 499,687 rooftop solar arrays up to 50kW were registered for the feed-in tariff scheme. Of that 478,875 were residential rooftop systems, with offices and other commercial properties accounting for the rest.
In 2013 on average 1,900 solar PV systems were installed every week, so it's highly likely that the figure has reached if not surpassed 500,000.  By 2015 the UK solar industry is aiming to hit 1 million installations. The figures are a testament to the growing popularity of solar photovoltaic panels, as more households turn to the technology to generate renewable electricity rather than conventional fossil fuels.
Leonie Greene from the Solar Trade Association told BusinessGreen that time and time again polls and surveys had shown considerable consumer support for solar, and the milestone figure proved that people were actually putting their hands in their pockets.
"Politicians may be fighting about energy and climate change in Westminster, but the public are just getting on with it," she said. "A quiet solar revolution has been taking place led by half a million everyday households."
Greene added that every single person who invests in a solar PV system helps bring down the cost of solar panels for future adopters. As Greene points out, in three years subsidies have fallen by 65% because of public investment. And it won't be long before solar energy will be able to compete with fossil fuels without the need for subsidies.
Interested in joining the solar revolution? Get free quotes from Solar Guide's MCS accredited solar installers. Simply fill in your details and we'll put you in touch with up to three solar professionals keen to provide you with competitive quotes.