How Has COVID-19 Affected the Solar Industry?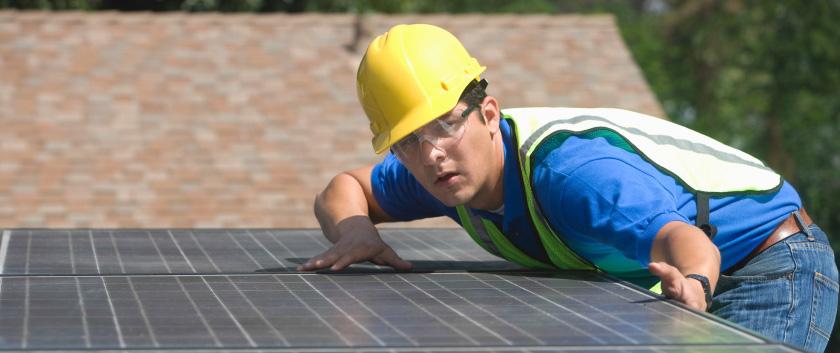 With every passing year, more homeowners visit Solar Guide to get quotes from local solar installers. Between 2016 and 2019, this number grew by 261%.
When COVID-19 hit in 2020, it was unclear how this would impact the solar industry. Fortunately, free renewable solar energy has become very desirable for homeowners. Plus, as a nation, we spent more time at home in 2020 than ever before. So it's no surprise that homeowners continued to turn to solar to help reduce their energy bills during the pandemic.
At the end of a year which included national lockdowns and local restrictions, requests for solar installers were up 137% compared to 2016. And while that's a slight drop in total enquiries compared to 2019, the demand for solar installers remained much higher than previous years.
We've crunched our enquiry numbers to see how COVID-19 affected the solar industry.
Did COVID-19 have an impact on the solar industry?
Since 2016, requests for solar installers through Solar Guide have grown massively. Looking at enquiries over the past 5 years as a whole, 9.6% of those enquiries came in 2016 while 2019 accounts for 32%.
In 2020 that percentage stands at 21% – a number that would certainly have been higher in a normal year.
| Year | Percentage of all Solar Enquiries Over a 5 Year Period |
| --- | --- |
| 2020 | 21% |
| 2019 | 32% |
| 2018 | 25.3% |
| 2017 | 11.7% |
| 2016 | 9.6% |
So, why did we see enquiries drop-off in 2020? Well the COVID-19 pandemic had an impact on just about every industry, including solar. Given the difficult times, with redundancies and furlough, some homeowners simply couldn't afford to invest in solar when they may have done so in a normal year. Meanwhile, others were cautious about social distancing or had to isolate.
In addition, during the first national lockdown in particular, many solar companies weren't able to work and had staff on furlough.
All of this naturally put 2020 at a disadvantage compared to previous years.
A bright year for solar thermal
In a year that saw fewer homeowners request quotes from solar installers as a whole, solar thermal was in demand.
Solar thermal enquiries in 2020 were up a massive 300% compared to 2018 and were only down 1% on the previous 12 months. Not bad for a year which included two national lockdowns. So, why were solar thermal panels still in demand?
Aside from their many benefits (free hot water, lower heating bills and no carbon emissions to name a few), in September, the Green Homes Grant scheme was launched. This scheme was going to kick-start the UK's push towards net-zero carbon emissions by increasing the efficiency of 600,000 homes. This would be done by giving eligible homeowners a voucher to put towards the installation of a renewable heating system, such as solar thermal panels.
Now this scheme was largely doomed from the start (it ended up closing to new applicants early) but in its brief life, many homeowners were able to make the most of it.
A quick look at our data from 2020 shows that requests for solar thermal installers were at their peak during the week when the Green Homes Grant scheme began (9% of all solar thermal enquiries). Closely followed by the next week (7%) and the week after that (5%).
What about solar PV?
Well, 2020 was a difficult year. We were in and out of lockdowns and when there wasn't a national lockdown there were still certain restrictions.
Despite a drop-off in enquiries in 2020, solar PV enquiries were higher than thermal and batteries put together, making up 78% of all Solar Guide enquiries for the year.
Given the difficult times, with redundancies and furlough, some homeowners simply couldn't afford to invest in solar. Meanwhile, others were cautious about mixing with others or had to isolate.
While solar thermal installations were supported by the government's Green Homes Grant, unfortunately, this initiative didn't offer any financial support for homeowners looking to invest in solar PV. Something that could have helped support the solar industry at this time.
Interest in solar is clearly still strong though. The same week national restrictions were eased (week commencing 6 July 2020) also proved to be our second biggest in terms of enquiries. So as life gets back to normal we can expect more homeowners to crack on with plans to install solar panels.
What's the picture for solar so far in 2021?
We're seeing the light and the end of the tunnel in 2021. And that's encouraging homeowner interest in solar energy to return.
Solar PV has proven the popular choice over the years and demand for solar PV installers has started strong in 2021. Early projections suggest that enquiries could be up 32.8% (compared to 2020) by the end of the year.
Solar thermal is also looking strong with requests for installers currently on track to beat all 5 previous years. However, the increased demand in the early part of 2021 could be to do with the Green Homes Grant scheme coming to a close in March.
Solar battery installations are on the up too. Compared to 2020, requests for installers have risen by 32.5% in the first 3 months of the year. An indication that homeowners are keen to use more of the solar energy their panels are generating. No surprise when you consider that the 'Big Six' energy companies introduced average price rises of £96 to their standard variable and default tariffs from 1st April 2021.
Based on the number of enquiries we've received in the first quarter of 2021, we can estimate the projected demand over the whole year.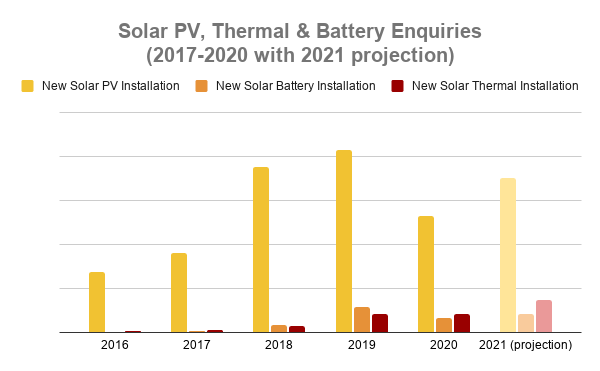 2021 could see solar PV enquiries rise by almost 33% compared to 2020.
As we did earlier in the article, by looking at previous years as a whole, we can see how 2021 compares. And the future is already looking brighter for the solar industry, with enquiry numbers looking like they'll come close to matching our peak in 2019.
| Year | Percentage of all Solar Enquiries Over a 6 Year Period |
| --- | --- |
| 2021 (projection based on enquiry numbers in the first quarter) | 22.6% |
| 2020 | 16.4% |
| 2019 | 25% |
| 2018 | 19.7% |
| 2017 | 9.1% |
| 2016 | 6.9% |
Interested in solar?
Powering your home with solar energy is a great way to lower your energy bills and do your bit for the environment.
Solar PV panels convert solar energy into electricity which can be used to power electrical appliances around your home. Meanwhile, solar thermal panels capture the sun's heat to warm the water stored in a cylinder.
So the question you need to answer is whether you want free electricity or free hot water. You could even have both if your roof is big enough.
Whether your home is best suited to PV or thermal, you can get free installation quotes from solar installers near you right here on Solar Guide. This is the quickest way to get free quotes from reputable installers. And all you have to do is complete our simple online form. It should only take a few moments.
Once you have your quotes you can compare them and be confident that you're hiring the right company for the job.
---
---