Tesla Powerwall 2.0 Cost, Specs and Reviews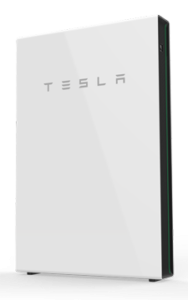 The Tesla Powerwall 2.0 is a solar battery with one of the highest energy capacities on the market. If you're considering a Tesla Powerwall for your home read on – we've put together an overview of the key facts, figures, pros and cons to help you make sure it's the right choice for your home.
Alternatively, if you'd like to speak to a solar installer in your area who can provide tailored advice and a free installation quote, complete our enquiry form now and we'll put you in touch with up to 4 MCS certified (or equivalent) installers today.
The Powerwall 2.0 by is a rechargeable lithium-ion battery. You can can install up to 10 Powerwall units in your home to maximise the amount of solar electricity you can store and reduce how much you have to buy from your supplier.
Tesla Powerwall 2.0 Specifications
Total Capacity
14 kWh
Usable Capacity
13.5 kWh
Depth of Discharge
100%
Efficiency
90%
Power
7kW peak / 5kW continuous
Warranty
10 years
Scalable
Up to 10 Powerwalls
Operating Temperature
-4° to 122°F / -20°C to 50°C
Dimensions (HxWxD)
1,150 x 753 x 147 mm
Weight
114 kg
Installation
Floor or wall-mounted
Indoor or outdoor
Take a look at the Powerwall 2 Owner's Manual for more Tesla Powerwall specs and information.
What are the Benefits of a Tesla Powerwall 2.0?
The Powerwall is an automated system so you don't need to carry out any maintenance.
It has an inbuilt DC-AC inverter, so installation is simple and therefore usually less costly.
It's been given the sleek, durable and modern design Tesla are renowned for so should be an attractive addition to any home decor.
It can be wall or floor mounted with up to 10 battery units stacked together if needed so you can be creative about where you place it in your home.
There are no wires or areas that will overheat and present a potential safety hazard so it's fine for homes with children and pets.
The battery is completely weatherproof so can be installed outside if preferred.
The liquid thermal control system controls Powerwall's internal temperature to enhance performance in any climate.
Will act as a backup power supply in the event of a powercut with the addition of a Backup Gateway 2
Tesla's smart Inverter is always connected and monitors your family's energy usage in real time. The Tesla App enables you to receive instant alerts for weather forecasts and energy usage estimations.
Get your best deal
Quickly compare up to 4 free quotes
It's free, easy and without obligation
Compare quotes & get the best prices
Save up to £608 per year
Back-up Gateway 2: Uninterruptable Power Supply
Unlike any other solar battery available in the UK, the Tesla Powerwall 2.0 is able to provide your home with an uninterruptable power supply (UPS) with the addition of a Backup Gateway 2. The big benefit of fitting the Backup Gateway 2 to the Tesl Powerwall 2.0 is that you will still have a power supply in the event of a power cut.
The Gateway 2 doesn't look too dissimilar from the Powerwall 2.0 unit in terms of style but is much smaller and can be wall-mounted so that it doesn't take up much space around the home.
A Storm Watch feature enables the Tesla Powerwall to scan the weather forecast, allowing it to charge should a storm, that could result in power cuts, be on the way.
Tesla Powerwall 2.0 Back-up Gateway 2
Backup Operation
Automatic disconnect for seamless backup transition
Power
7kW peak / 5kW continuous
Warranty
10 years
Modularity
Supports up to 10 Powerwalls
Operating Temperature
-20° to 50°C / -4°F to 122°C
Dimensions
H x W x D: 29.1″ x 14.9″ x 5.1″
(740mm x 378mm x 129mm)
Weight
16.4kg (36lbs)
Mounting Option
Wall mounted
By downloading the Tesla App onto a smart phone or tablet, you can monitor the energy usage as well as manage the backup energy supply, giving you complete control of the unit.
Find out more about with the Backup Gateway Datasheet from Tesla.
Is it Right for Your Home?
The Powerwall is easily one of the most expensive batteries on the market and, with such a high capacity, it's possible that a smaller battery may be sufficient for your energy needs. For most households, 5-10kWh of storage is ample for evening/overnight use.
Despite the high capacity, the Powerwall will not enable you to break free from the National Grid yet. You'll still need to top up your energy through your energy supplier but that is true of any solar storage system at the moment.
Can the Powerwall 2 charge a Tesla electric vehicle?
Tesla has become synonymous with electric vehicles and their Powerwall 2 solar battery storage system can be used to charge a Tesla EV. However, there isn't currently a direct connection from the Powewall to the EV connector.
How much does a Tesla Powerwall cost?
The unit cost for a Powerwall battery is £5,400 with a £400 deposit upfront.
However, there is also supporting hardware to purchase for an additional £500, totalling £5,900 including VAT. This doesn't include the cost of installing it in your home, however, which Tesla estimate to be anything from £800 – £2,000 on top.
Tesla Powerwall 2 Price
Upfront Deposit
£400
Supporting Hardware
£500
Installation
£800 – £2,000
Total Cost (before installation)
£5,900
Total Cost (with installation)
£6,700 – £8,700
Other possible costs to consider include any electrical work that needs to be carried out and, if introducing a new system, the installation of tesla solar panels on your roof.
In comparison to other leading solar batteries on the market such as Powervault or Enphase this is considerably more expensive, but these batteries just can't match Tesla for storage capacity. However, Sonnen's Eco Batterie has a slightly higher capacity of 16kW for prices starting from £4,500 – compare the best solar battery storage units.
Tesla offers one of the pricier solar batteries on the market but there are several other high-quality batteries available with lower price tags if your budget is a concern. If you're interested in a solar battery (from any manufacturer) for your home complete our quick and simple enquiry form now; we'll find you free quotes from up to 4 approved solar installers in your area.
Get your best deal
Quickly compare up to 4 free quotes
It's free, easy and without obligation
Compare quotes & get the best prices
Save up to £608 per year