Thermodynamic Solar Panels vs. Solar Water Heaters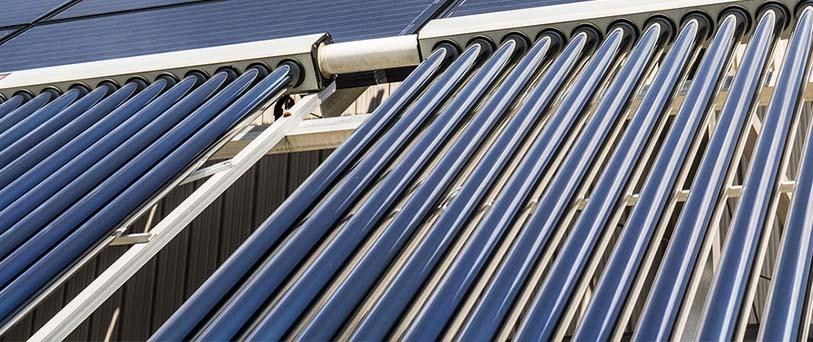 If you're looking for an alternative to solar thermal hot water heating then you might want to give some thought to solar thermodynamic panels. The emerging renewable energy technology is starting to steadily make a name for itself now we're heading into 2018.
When Thermodynamic solar hit the market around 2012 they proved to be a revolutionary way to provide constant hot water and heat for our homes. Just think of it like an advanced solar water heating system and an air source heat pump combined.
The thermodynamic panels are made from weather protected anodized aluminium which weigh in at just 8 kilograms, and systems comprise of a 250 litre or 280 litre hot water cylinder which will be able to provide enough hot water to easily meet the needs of a family of five. They work by using reverse refrigeration technology which converts heat from the atmosphere into a thermodynamic hot water system and space heating for your home all year round, 365 days a year.
Available in outputs of up to 53kW thermodynamic solar panels deliver 55°C hot water. A one panel system will be able to provide your household with constant hot water, whilst a 4 panel system will provide central heating.
These innovative new thermodynamic hot water systems are a major advancement in solar thermal technology, not least because while conventional solar systems operate using daylight, thermodynamic panels will work 24/7. Yes, during the day and at night. And that's just one of a number of reasons why the technology is beginning to generate such a buzz.
---
---
How does it differ from solar thermal?
Thermodynamics are up to four times more efficient than conventional systems. Not only that, but this type of technology doesn't require a secondary heat source, unlike traditional solar thermal panels. Which means it's time to say bye bye to immersion heaters.
What are the benefits of thermodynamic panels?
It is an emerging technology but the advantages speak for themselves. Thermodynamic panels are a good choice and here's 10 reasons why:
Systems will provide 100% of your hot water needs
They work day and night
Systems can operate in temperatures as low as -15°C
You'll get continuous hot water on tap 24/7 365 days a year
You can save up to 70% on your annual energy bills
Panels can be mounted on your roof or vertically onto a wall
They'll help to lower you household's carbon emissions
There's very little maintenance required
Installations are simple and straightforward
The technology has a COP rating of 3 to 6
---
---
How does the technology work?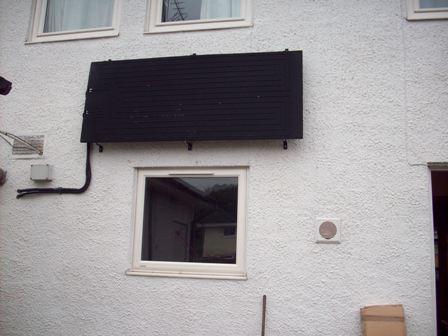 In thermodynamic technology energy from the atmosphere is absorbed into a special fluid which circulates through the weather protected anodized aluminium panels.
Once the fluid leaves the panels it is compressed into a hot gas which flows through a coil in the hot water cylinder which heats the water. Last but not least the gas travels through an expansion valve in the system and is transformed back into a fluid.
Only F-Gas registered installers should be enlisted to install thermodynamic technologies which can be used for:
Providing daily hot water
As a complete thermodynamic water heating system
To heat a swimming pool
Will the technology be eligible for the RHI?
Presently the technology isn't be eligible for the Renewable Heat Incentive (RHI) scheme, although that could change. As a general rule renewable heating systems below 45kW capacity must comply with the Microgeneration Certification Scheme, but after undergoing an initial review of the technology the Microgeneration Certification Scheme (MCS) has temporarily suspended installers being able to register thermodynamics.
Requirements for the installation of this technology type needs to be developed further by MCS before suspension can be lifted. It's worth noting, however, that thermodynamic solar panels can still be installed, they just aren't currently eligible to register with MCS.
Systems below 45kW capacity must comply with the Microgeneration Certification Scheme.
System sizes and costs
Thermodynamic solar panels are the next generation in solar water heating. Available in outputs up to 53kW a one panel system will cost in the region of £4,500.
So for hot water and central heating day and night think thermodynamic solar panels.
*Thanks to www.greenserveuk.com for the use of their images.
---
---