Powervault Batteries: Cost, Benefits & Reviews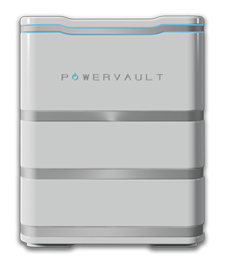 A Powervault battery will give you the power (excuse the pun) to store the energy generated by your solar panels during the day for use at night.
Since 2012 London based Powervault have been on a mission to lower the UK's electricity bills, reduce carbon emissions and lessen our dependence on the National Grid. The British company manufacture in Luton and market their solar energy storage system as both 'intelligent' and 'affordable'.
If you'd like to speak to a solar installer in your area who can provide tailored advice and a free installation quote for a solar battery, complete our enquiry form now and we'll put you in touch with up to 4 MCS certified (or equivalent) companies today.
Get your best deal
Quickly compare up to 4 free quotes
It's free, easy and without obligation
Compare quotes & get the best prices
Save up to £608 per year
Powervault G200 Product Range
The Powervault battery is compatible with all solar PV systems. The product range includes a choice of the lower cost Lead Acid battery or the more costly but longer lasting Lithium-ion Phosphate battery. The company claim that a homeowners could lower their electricity bills by as much as 20% with a Powervault system. In addition, the Powervault can charge from the National Grid which means you could make use of Economy 7 by charging it at night for use during the day.
Battery Type
Benefits
Capacities Available
Charger / Inverter
Life Cycles
Average lifetime
Warranty
Lead Acid (AGM)
Affordable, Stores and shifts solar energy efficiently
3kWh, 4kWh
0.8kW / 1.2kVA
>800
5 – 7 years
3 years
Lead Acid (Tubular Gel)
Heavy-duty, long-lasting, but cheaper than Lithium-ion
2.5kWh, 4kWh
1.2kW / 1.6kVA
>1,800
5 – 7 years
5 years
Lithium-ion (LiFePO4)
High energy density, high efficiency, heavy-duty and long-lasting
2kWh, 4kWh, 6kWh
2kWh: 0.8kW / 0.8kVA

4/6kWh: 1.2kW / 1.6kVA

>4,000
11 – 13 years
10 years
Powervault 3 Product Range
Powervault's latest range of solar batteries includes the Powervault 3 and Powervault 3eco. The difference between them is that the Powervault 3 uses high-performance Lithium-polymer (Li-MNC) cells while the Powervault 3eco model uses recycled Lithium-manganese-oxide (LMO) cells from electric vehicles. Powervault have partnered with Renault to recycle cells from electric cars, and have the potential to perform for a further 10 years in home solar battery storage.
| Battery Type | Benefits | Capacities Available | Charger / Inverter | Life Cycles | Average lifetime | Warranty |
| --- | --- | --- | --- | --- | --- | --- |
| Lithium-polymer (Li-MNC) | Long life, high energy density | 4.1kWh, 8.2kWh, 12.3kWh, 16.4kWh, 20.5kWh | 5.5 / 5.5kW | >600 | TBA | 10 years |
| Second life: Lithium-manganese-oxide (LMO) | Recycled cells, low cost | 3.9kWh, 5.9kWh, 7.9kWh | 3.8kW / 5.5kW | >1,500 | TBA | 3 years |
Why consider a Powervault Solar Storage System?
Affordable cost: A Powervault battery (without a solar panel system and solar heater) will cost between £2,000 – £2,800 depending on the type of battery and capacity you need. When compared to other market leaders like Tesla which starts at £5,400 or Sonnen at £4,500, this is a considerable saving. Why are they so much cheaper? Well, they have designed a battery specifically for the energy use of an average UK home (10kWh/day) meaning it can charge and discharge completely every day. Interested in total solar system costs? Read our cost of solar panels and battery page.
Recyclable batteries: The Lead Acid batteries need to be recycled by law and Powervault are able to recycle 99% of the lead in their batteries.
Monitor your energy usage: Powervault offer a Customer Portal which enables you to track and monitor how much energy you are using, the battery's charge level and how the Powervault is performing.
Charge on Economy 7: In addition to storing your solar energy, a Powervault can also charge from the National Grid. This means that you can take advantage of cheaper night tariffs like Economy 7 and keep the energy for use during the day.
Easy installation: Powervault claim that their batteries can be installed by a qualified electrician in less than 2 hours. Everything needed to get your system up and running is included in the price with no need to purchase additional elements.
Warranty: There's a 10 year warranty on the replacement of faulty parts in the Lithium-ion batteries and a 5 year warranty in the Lead Acid batteries.
No maintenance, safe technology: All Powervault batteries are sealed and do not produce gases. They require no maintenance and include 10 safety devices including temperature sensors and overvoltage protectors.
Customer Service: As a British based company Powervault have the advantage of being able to offer more hands-on customer support than their global competitors. If things go wrong, it's reassuring to know that an engineer is on hand to physically visit your home and get you up and running again.
GridFLEX: With the demand for energy increasing, there's increased pressure on the UK energy network, to support the network Powervault have introduced GridFLEX, a platform that pays Powervault 3 customers £10/month. This payment begins from the date of installation and will be paid 1 year after installation – the initial contract is 2 years.
Powervault Partnerships
Octopus Energy: The Agile Tariff from Octopus Energy is a half-hourly settled tariff thats pricing is based upon wholesale energy prices. Powervault have developed an algorithm that automates the optimisation of the Powervault battery by creating a Smart Schedule based on:
Weather data
Pricing signals
Customers average energy usage (based on machine learning from historic consumption data)
This schedule will deliver customers with the highest value possible from the Powervault and as it's all automated there's no need to set any schedules. Potential savings of up to £600 on annual electricity bills can be made – based on a household with high usage (8000kWh p.a) and no solar can be made.
EDF Energy: EDF offer a discount on Powervault units when customers sign up to their grid servicing contract.
How much do Powervault batteries cost?
| Powervault 3 Model | Potential Cost |
| --- | --- |
| 4 kWh | £4,740 |
| 8 kWh | £7,020 |
| 12 kWh | £9,420 |
| 16 kWh | £12,660 |
| 20 kWh | £14,820 |
As well as the battery itself, you can also purchase a chassis which will allow you to increase the battery size in the future.
| | 4 kWh | 8 kWh | 12 kWh | 16 kWh |
| --- | --- | --- | --- | --- |
| 8 kWh Chassis | £600 | – | – | – |
| 12 kWh Chassis | £960 | £600 | – | – |
| 16 kWh Chassis | £1,680 | £960 | £600 | – |
| 20 kWh Chassis | £2,280 | £1,680 | £960 | £600 |
You can also purchase additional battery packs for the Powervault 3 to increase capacity.
| Capacity Increase | 4 kWh | 8 kWh | 12 kWh | 16 kWh |
| --- | --- | --- | --- | --- |
| Capacity to 8 kWh | £3,540 | – | – | – |
| Capacity to 12 kWh | £7,080 | £3,540 | – | – |
| Capacity to 16 kWh | £10,620 | £7,080 | £3,540 | – |
| Capacity to 20 kWh | £14,160 | £10,620 | £7,080 | £3,540 |
Interested in a Powervault Energy System for your home?
Whether it's a Powervault solar battery you're interested in or you've another manufacturer in mind the best way to save money on the installation is to compare quotes. You can complete our quick and simple enquiry form today and we'll find you free quotes from up to 4 accredited solar installers in your area. Solar Guide can put you in touch with a highly recommended professional in your area who can advise you and provide you with their most competitive quote for the job.
Get your best deal
Quickly compare up to 4 free quotes
It's free, easy and without obligation
Compare quotes & get the best prices
Save up to £608 per year