Solar PV installed in almost half a million UK homes
It's official. The UK loves solar panels. Latest figures published by the Department of Energy and Climate Change show that nearly half a million households are having a love affair with solar energy by installing solar PV panels on their roofs.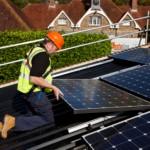 With nearly 460,000 UK homes choosing to switch to solar energy, enjoying the benefits and savings of solar PV, more and more people are turning their backs on expensive fossil fuels in favour of the renewable energy. Factor in the recent hikes by some of the 'Big Six' energy suppliers, it seems solar is fast becoming the renewable energy of choice for homeowners desperate to take back control of their skyrocketing energy bills.
According to the Department of Energy and Climate Change (DECC) domestic solar PV installations account for the largest sub-sector of the UK solar market, with a combined peak capacity of 1.3GW.
The Solar Trade Association, a not-for-profit organisation representing solar energy professionals, is encouraging households who are frustrated and unhappy with large and unpredictable energy price rises to consider the benefits solar panels provide. With installation costs falling – you can install a 4kWp system for around £6,000 pounds – solar energy is a viable option for energy consumers looking to minimise their exposure to expensive fossil fuels which are becoming increasingly scarce.
Commenting on the latest data from DECC, Solar Trade Association CEO Paul Barwell said people were becoming more and more angry about ever-rising energy bills.
"It's a particularly clever choice right now because the returns are excellent. People who are fed up with their energy supplier could do no better than to switch to supplying themselves with solar power on their roof.
"The more people that invest in solar power today, the quicker the price comes down tomorrow. We need to keep going down this path until solar power is cheaper than retail electricity prices and everyone can have access to cheap, green power and stable energy bills."
According to the Solar Trade Association households opting to install a 4kWp solar PV system could enjoy returns of around 12% and a payback of less than 8 years. Our solar PV calculator will help calculate the potential profit your roof could provide.
Benefits of installing solar PV panels:
Generate a tax free income for 20 years with the feed-in tariff
Get cheaper energy bills by reducing your reliance on expensive fossil fuels
Generating your own free, green electricity means less power off the grid
Make your home more energy efficient and more attractive to buyers
Cut your bills and your household's carbon footprint
Currently the solar feed-in tariff pays owners of solar PV systems up to 4kWp 14.9p/kWh until January 2014. Act now before rates fall by applying for free solar quotes today from Solar Guide's MCS accredited and approved solar professionals.
Benefits of getting quotes from Solar Guide's installer network:
Each and every one of our solar professionals are accredited with the Microgeneration Certification Scheme
We've take the hassle out of finding quotes by putting you in touch with approved professionals
We offer a no obligation free service. Yes, that means our quotes are free!
We operate a feedback system for customers to rate our installers and provide genuine customer feedback
Solar energy is the solution to winning the fight against energy suppliers and large and unpredictable energy bills. Solar panels can not only save you money but make you money too. So don't delay, get up to three free solar PV quotes today.