Best Solar Panel Installers Near You (2023 UK Guide)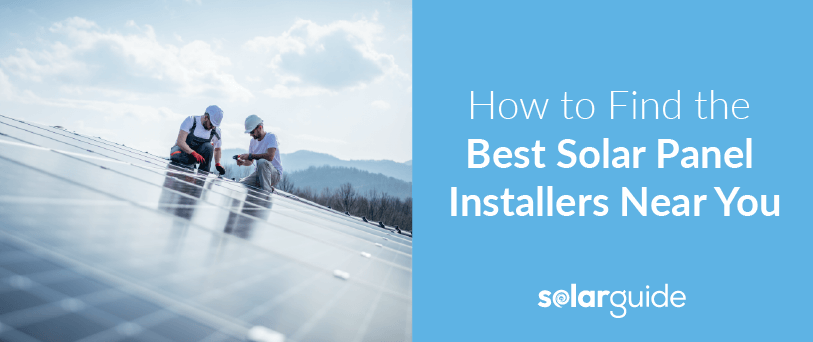 There are well over 2,000 solar panel installers operating in the UK today. And with more and more of us making the switch to solar, installer options will only continue to grow. With so many solar panel installers in the UK, first-time buyers might find the process of choosing an installer quite difficult.
But don't worry. Because if you're wondering: "What are the best ways to find a solar panel company near me?", then we've put together a comprehensive guide just for you. 
We can also make the experience of finding a solar panel installer far easier by linking you with the most qualified solar professionals in your area. Whether you're looking to fit new panels or a solar battery, use our quote comparison service to learn the best rates in your area. 
Rather than having to do extensive and tiresome research all by yourself, trust the team at Solar Guide to find the best installers for you. Then you can make the smartest choice possible by comparing their quotes and choosing the installer best for you. Click the button below, fill in the quick form, and we'll do the rest!
Get your best deal
Quickly compare up to 4 free quotes
It's free, easy and without obligation
Compare quotes & get the best prices
Save up to £608 per year
What are the best solar panel installers/companies in the UK?
When it comes to searching for solar panel installation companies, we always recommend that you choose between local solar panel installers operating in your area. This is because of their local expertise, more personalised care for their customers, and usually far cheaper rates. 
Below we've listed 3 highly reputable regional-based solar installation companies to give an idea of what to look out for among the options in your own region. 
All Seasons Energy
All Seasons Energy, based in Sheffield, offers a range of solar technologies including solar PV systems, solar thermal panels, and renewable heating systems. This company is highly decorated with multiple awards including a South Yorkshire Sustainability Award in 2022, and an Energy Efficiency Regional Award in 2023. All Seasons' team of 90+ specialists has gained MCS accreditation and TrustMark approval. For a regional company, they've also received an impressive 500+ customer reviews. 
Effective Home
Doncaster-based installers Effective Homes is MSC certified, Approved Codes accredited, and Quality Mark protection accredited. Its team of over 200+ employees put sustainability and energy savings at the heart of their operations, boasting over £250m worth of energy savings delivered since 2008. Effective Homes sell and install solar panels, smart batteries, and air source heat pumps with finance options available. 
My Home Solar
My Home Solar operates across South England, with branches in Oxford, Gloucester, Dartford and Dorchester. It offers specialised installation services for solar panels and solar batteries in the residential and commercial sectors. As well as MCS certification and Trustmark approval, My Home Solar have also achieved an Approved Codes accreditation. 
What to look for in local solar panel installers
It's crucial to choose a credible installer to ensure your new panels are installed correctly and can run for years to come. Here are some key ways to find the best solar panel installers for your project: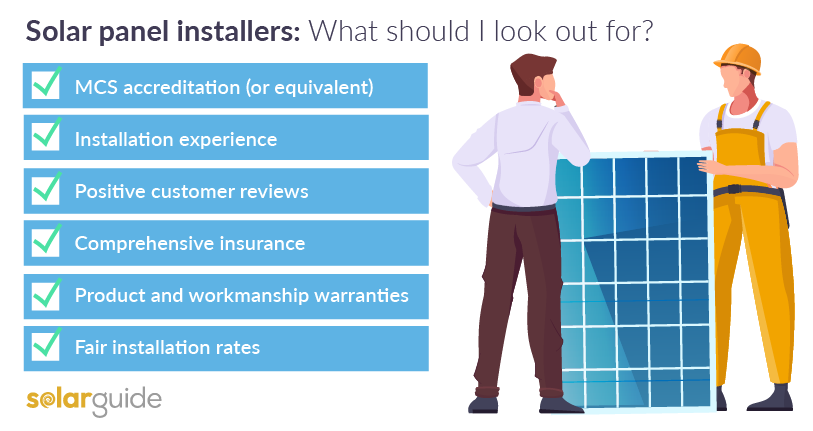 MCS certification (or equivalent)
You should always ensure that any solar panel installation company is MSC certified. This shows that they have been vetted against legal and industry standards, proves their validity as a professional installer, and guarantees consumer protection should you run into any issues with the installer. 
The Microgeneration Certification Scheme (MCS) is endorsed by the Department of Energy and Climate Change (DECC). Other common official certification schemes to look out for is the Renewable Energy Consumer Code (RECC) and the Solar Trade Association (STA).
All Solar Guide solar installers are MCS certified (or equivalent).
Compare solar installation experience
Finding a longstanding, well-established solar panel installation company with at least 5 years in the business is always a good idea. Simply learning how long they've been operating and how much the company has grown in that time is a clear indication of their professional experience. Some companies will also let you know exactly how many solar panel systems they've installed over the years. 
If your rooftop conditions are uncommon, then you also check that the installer has experience with these conditions. For example, those with non-typical roof materials or flat roofs. 
Compare customer reviews
Plenty of positive customer reviews tell you that the company has left customers feeling happy and satisfied with the quality of the installation and the overall customer service. In particular, multiple reviews concerning the speed of service, effective communication, and clear expertise are good indicators of a companies reputation. 
Most companies will feature reviews and testimonials on their websites and social media. You can also check independent platforms, such as Trustpilot. 
Compare solar installation insurance
Solar panel insurance protects your wallet in the event of damage or faults in your solar array. Insurance should cover all sorts of potential risks for the duration of its lifespan. When you're equipped with insurance, you'll have peace of mind and, should you experience any issues, costs to repair/replace them will be kept to a minimum. 
Before choosing a new insurance plan, check to see if your current home insurance doesn't already cover it, or if it can be added to your current home insurance plan. 
Check the product and workmanship warranties
It's also important to ensure your solar panels have a lengthy warranty period that covers a range of potential issues that might occur during or after installation. 
Most companies will offer 25 years of manufacturer warranty, meaning you should be covered against faults in the product for the duration of the solar panels' lifespan. You can also opt for warranty against improper installation which usually spans between 1-2 years. With that being said, the risk of problems are reduced with a professional installer. 
Compare solar installation prices
You can help limit the total cost of a new solar panel system by comparing quotes from various installers before you commit to one. Quotes are based on the product you're installing, your home's conditions, and the company's labour costing policy. Receiving multiple fixed quotes means you'll learn the most fair prices and you can pick out a good deal. 
With Solar Guide, we can provide you with 4 quotes from MCS-certified (or equivalent) solar installers from within your area. You can consult with them, arrange a house visit, and receive tailored quotes for their installation services. 
This makes the entire process of finding an installer far easier than if you go it alone. Don't spend hours looking for installers in your area! With Solar Guide, all you have to do is fill in our quick form, wait to be contacted, then make the choice that's best for you. 
To get started click the button below.
Get your best deal
Quickly compare up to 4 free quotes
It's free, easy and without obligation
Compare quotes & get the best prices
Save up to £608 per year
Are there any solar panel companies to avoid?
Remember, choosing a reputable and qualified installer might involve paying a little more upfront, but it can save you from significant costs, and potential safety risks in the long run. 
While choosing the cheapest deal might be tempting, if it's not offered by a reputable, qualified installer then you might find yourself paying for it later. Similarly, you should also be wary of companies that promise fast service. Such companies might be more interested in making a quick sale which will likely result in an improper installation, impersonal service, or you could be left with faulty products. 
Avoid installers who are unresponsive, fail to provide clear information about the project timeline, or are unable to answer your questions satisfactorily. As we've mentioned, installers that are not MCS certified, offer short or no warranty cover, or they've received a lot of negative reviews are also a no-go. 
Reliable solar panel installers will offer post-installation support and maintenance services. Don't be afraid to directly ask if they have any such policies, system monitoring, or troubleshooting. The lack of these policies is another sign that they might be untrustworthy or less committed to a quality service. 
Conclusion: How to choose the best solar panel installer near you
To summarise, in order to find the best solar panel installers out there, you should do your research! Gather as much information from various sources about multiple companies. As we've discussed, there are several important do's and don'ts that can guide you throughout the process: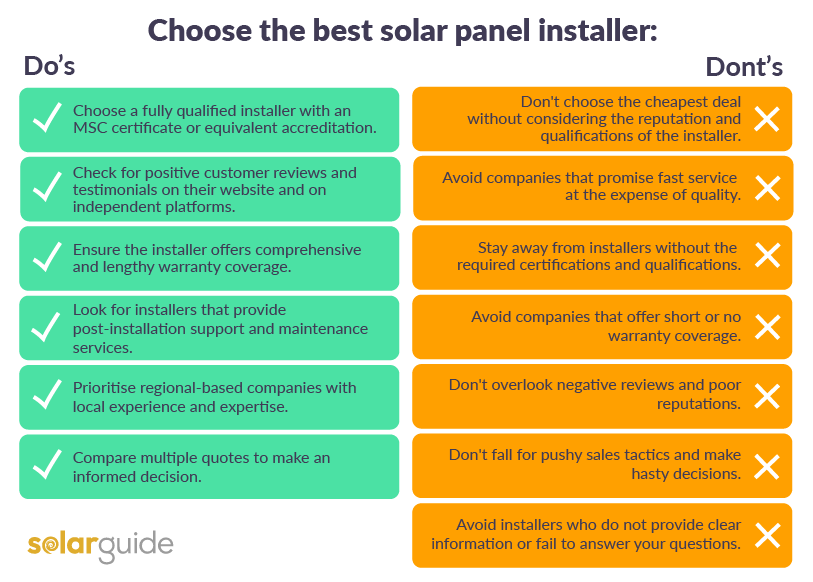 Choosing the right solar panel installer is a crucial step in ensuring a successful and reliable installation. To make this entire process easier for you, Solar Guide offers a free quotes comparison service.
Solar Guide can help you find local solar panel installers who meet your requirements. With your details, we can find you the best local installers for your project. 
This means, no more researching and contacting installers one-by-one, instead you can hone in a few carefully selected companies that we provide. They will also contact you rather than the other way around and offer you a fixed quote to compare. The best part is that this service is completely free, even if you decide not to choose any of the quotes you receive from the installers.
Take advantage of this free service to ensure you make an informed decision and enjoy the benefits of clean, renewable energy.
Get your best deal
Quickly compare up to 4 free quotes
It's free, easy and without obligation
Compare quotes & get the best prices
Save up to £608 per year
Frequently asked questions
Who is the most reputable solar company in the UK?
Three of the most reputable local solar companies operating in the UK include: Effective Energy, All Seasons, and My Home Solar.
How do I choose a solar panel installer UK?
To help you decided the best solar panel installer you should always compare at least 3 tailored quotes from different companies. This way, you can see what the most accurate installation prices are and potentially land a good deal.
How much does it cost to install solar panels in the UK?
Solar panels tend to cost between  £1800 -  £6000, depending in the size of the system. Installation costs will also vary depending on the system size, your rooftop conditions, and your location relative to the installation company you choose.