Choosing a Solar Panel Installer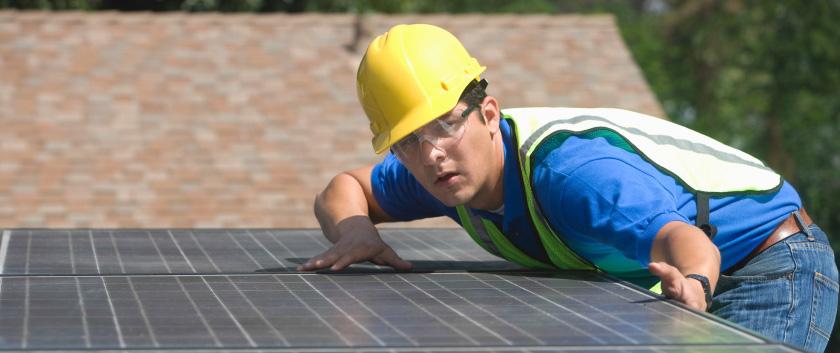 If you've decided to have solar panels installed on your home, your next job is to find accredited and trustworthy solar installers in your local area, but it can take time to research and contact several different solar companies for a quote. In addition, you can't always be sure you are dealing with a reputable company with the necessary accreditation and consumer protection. To save yourself time, hassle, and potentially a lot of money, let us do the legwork for you.
We have a network of MCS certified (or equivalent) solar installers working all over the UK, all waiting to provide you with a competitive quote for your job. Complete our simple enquiry form in just a few minutes and get free solar panel quotes to compare right now. When you have your no-obligation quotes to compare, read on for our advice on choosing the best solar panel installer for your job.
How to choose a solar installer
There are a number of things to consider when searching for the best solar panel installer, including:
MCS accreditation (or equivalent)
Installation experience
Read customer reviews
Insurance
Product and workmanship warranties
Installation rates
Comparing multiple quotes will give you the greatest chance of finding a qualified installer who has glowing reviews and offers the best rates.
MCS certification (or equivalent)
It is extremely important to employ the services of an MCS certified (or equivalent) solar installer. If you don't, you won't be able to benefit from consumer protection which certification schemes provide as it's a mark of quality.
The Microgeneration Certification Scheme (MCS) is supported by the Department of Energy and Climate Change (DECC) and is an independent scheme which certifies microgeneration products, such as solar PV panels, and the companies that install them.
All Solar Guide solar installers are MCS certified (or equivalent).
Compare solar installation experience
When it comes to choosing a solar panel installer the more experienced the better.
Experience counts for a lot when it comes to the installation of solar panels. So, it will certainly pay off to do your research and find out how long they've been in business and how much experience they have installing solar panel systems.
Compare customer reviews
Thanks to websites such as Trustpilot, it's easier than ever to find out the reputation of a company.
Taking the time to read the solar installation company reviews, can really help you to find the best installer.
At Solar Guide we operate a rated service which allows our customers to rate and review our accredited solar installers. Solar Guide features genuine verified customer reviews and ratings.
---
Get Free Solar Panel Quotes:        Get quotes and compare prices.
---
Compare solar installation insurance
In the event that something should go wrong during the solar panel installation, you'll want to ensure that you're covered.
Solar installers should be covered by several types of insurance. The most important as a customer is Public Liability Insurance. With Public Liability Insurance, you can be confident that any damage caused to your property during the installation will be covered.
Check the product and workmanship warranties
The company installing your solar panels will usually offer two separate warranties. One which covers the product itself and one which covers the workmanship. Before going ahead with any installation, always check out the warranties and guarantees; they can vary from installer to installer.
Generally speaking, the work will be covered for anything between 5 to 10 years, whilst the panels will be guaranteed for 20-25 years. Solar panels are manufactured to last, but you will need to replace the inverter at some stage; most inverters come with a warranty of at least 5 years.
Compare solar installation prices
Last but by no means least, you need to compare prices.
Installers will all have their own rates which makes comparing multiple quotes worthwhile. If you were to get a single quote and go ahead with it then you wouldn't know whether you're being overcharged. By comparing quotes, you can be confident that you're getting the most competitive price for a solar panel installation in your area.
At Solar Guide, we highly recommend obtaining 3 quotes from MCS certified (or equivalent) solar installers, who will visit your property to determine whether solar photovoltaic panels are going to be suitable. By getting 3 quotes, you'll get the best possible advice and price for your solar installation so you can achieve the best possible payback.
Solar PV panel installation: What's involved?
Depending on how many solar panels you're having installed, the installation could take between 1 to 3 days and will involve:
Scaffolding being erected around your property
Roof hooks and frames being fitted
Attaching solar panels to the roof and then wired
Connecting the solar panels to the solar inverter and grid
Power up the solar PV system
Register the system with the Microgeneration Certification Scheme (MCS)
Provide you with all documentation
Find our more in Solar PV Panel Installation: What's Involved?
How can I find a local solar installer? 
If you're looking to find a solar installer near you, send us an enquiry today. Our installer network includes local and nationwide solar companies and we will endeavour to find at least one local solar installer to provide you with a quote.
---
Get Free Solar Panel Quotes:        Get quotes and compare prices.
---
Will I need planning permission for solar panels?
Most domestic residential solar panels do not require planning permission but it's always a good idea to consult with your local council's planning department. If the solar panels are to be fitted to a listed building or a property in a conservation area or a world heritage site then it is imperative to check with your local authority first.
Knowing if your roof is suitable for solar panels ultimately comes down to the direction the roof faces, whether it is covered by shade and what it's made from.
What are the best solar panels to have installed?
We compared 7 leading solar panel manufacturers and LG came out on top thanks offering a lengthy 25 year warranty on the product and power and having the most efficient monofacial panels (21.4%).
Find out more about the Best Solar Panels in our comparison article.
Is installing solar panels the right choice for my home?
Solar panels are an ideal solution for environmentally conscious homeowners because they don't generate greenhouse gases. By installing a solar PV system, you'll be doing bringing down the carbon footprint of your home and doing your bit for the environment.
The average-sized solar system will enable you to cut your home's carbon footprint by around 20%, saving around 1,000kg CO2 every year. Plus, there are even more savings to be had in the shape of lower utility bills – it's a win-win situation.
You can even further your energy bill savings by having a solar battery storage unit installed to store excess energy generated by your solar PV system for use at a later time. This means that if you're at work during the day you can have free energy waiting to use when you get home in the evening. Find out the Best Solar Batteries.
Read more about the benefits of solar panels and whether they're the right renewable energy generation system for your home: Are Solar Panels Worth It? 7 Biggest Benefits of Installing Solar Panels
Solar Panel Companies to Avoid
Unfortunately, there are some disreputable 'solar companies' out there promising quick installation at very cheap prices, but they should be avoided at all costs.
As we've mentioned, never hire a solar installer who is not MCS certified (or equivalent) as you'll miss out on the quality assurance and consumer protection which the scheme provides. The best way to avoid dodgy solar companies is to do as much research as you can and compare quotes from multiple installers. If one quote appears a lot cheaper than the others, this is something which should be challenged as it could indicate that they're using poor quality technology or performing quick installations.
In addition it's also a good idea to discuss the warranty included with the panels and the after care services available. You don't want to have solar panels installed by a company that disappears as soon as the solar panels are on your roof. Take a look at their websites and ask for testimonials from former customers to ensure they're a reliable company with a good track record.
All Solar Guide installers are vetted to ensure they are MCS certified (or equivalent) and regularly monitored for positive customer feedback; you can get free, no-obligation quotes for solar panels from MCS certified (or equivalent) installers in your area by completing our simple enquiry form.
Time to compare quotes
We've taken the hassle out of finding solar panel installers. By taking a few moments to complete our simple online form, answering a few questions about your home, we'll have everything we need to match you with up to 3 solar installers based in your area.
You'll get free quotes from each of the solar installers, and there is no obligation to accept any of them, but you may just be able to save yourself some time and money on your solar panel installation.
---
Get Free Solar Panel Quotes:        Get quotes and compare prices.
---