Solar FIT rates frozen until April 2014
Energy regulator Ofgem has confirmed that the tariff rates for domestic sized solar photovoltaic systems up to 4kW installed under the popular feed-in tariff scheme will remain unchanged until April 2014.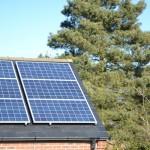 Solar subsidy rates were due to be reviewed in January 2014, however due to low levels of uptake there will be no degression, with rates frozen until 31st March 2014.
It's good news for homeowners considering installing solar PV panels as a solution to rising fossil fuel bills. Eligible installations will continue to benefit from the current tariff rate of 14.9p for every kilowatt hour of electricity a system generates.
If installation targets are surpassed, driven by an increase in demand, Ofgem can cut solar feed-in tariff payments by 3.5% every three months. A freeze in tariff levels means that the threshold required to trigger an automatic cut has not been reached. The Government introduced their system of degression back in August 2012 and a 14.9p/kWh rate has been in place since the last tariff cut in June.
Ofgem confirmed the freeze last week and published a new table for installations from 1 February 2013 to 31st March 2014.
Reasons to install solar panels
Cut your energy bills
Be less dependent on expensive fossil fuels
Protect yourself against future energy price hikes
Earn money through the feed-in tariff scheme
Make your house more energy efficient and more attractive to buyers
Cut your household carbon footprint
To find out more, read about the costs, benefits and savings of solar panels and get up to 3 quotes for free from MCS accredited solar professionals in your area. Quotes are free and at no time will you be under any obligation. Compare quotes for competitive prices, fill out our simple quote form today.