Solar subsidies frozen at 14.9p until Jan 2014
Energy regular Ofgem has confirmed that there will be no change to feed-in tariff levels for solar photovoltaic panels come October; meaning domestic sized installations between 0-4kW will continue to achieve a FiT rate of 14.90p/kWh until 1 January 2014.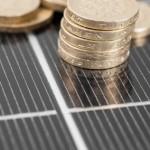 Ofgem has the power to reduce the amount of support available to adopters of solar electricity via the feed-in tariff , decreasing tariff payments by 3.5% every three months when solar PV installation targets are achieved. However during the last quarter the threshold needed to trigger an automatic reduction wasn't reached, leading to the tariff freeze.
Installation numbers have remained fairly steady since August 2012, when the Government introduced a system of degression, achieving around 1,500 solar panel installations every week. The last tariff cut at the end of June saw rates for domestic installations up to 4kW fall from 15.44p/kWh to 14.90p/kWh.
In the week prior to the tariff reductions installation numbers hit a yearly high, with 5,866 solar panel systems installed, the highest rate in the last 12 months. But generally solar installations have remained relatively stable at around 1,500 installations a week since the Government introduced the tariff reduction system last August.
The news that solar subsidies have been frozen for the remainder of the year will be good news for homeowners in the process of sourcing free quotes for solar PV. It will also be welcomed by the UK solar industry, which received another knock recently thanks to a dispute between the EU and solar panel manufacturers in China regarding the price of imported Chinese solar panels. Although the two parties look set to strike a deal which will end the dispute by establishing a minimum import price which will be linked to industry price reports.
Commenting on the announcement, a Solar Trade Association spokesperson said:
"It's good after all the Chinese upheaval and uncertainty but actually in the most valuable sub-sector [small domestic solar systems up to 4kW] we are only seeing about a third of the anticipated level of deployment."