No degression for solar FiTs in February?
Based on provisional figures for solar installations between August and October, it's highly likely that there will be no degression for the feed-in tariff (FiT) scheme in February with solar subsidies remaining unchanged.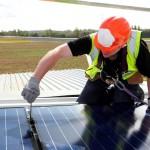 According to the latest press release from industry experts Feed In Tariffs Ltd due to a disappointing level of installations in the three month period – which fall below the Government's set target capacity levels in all three bands – FiTs should be subject to zero degression come 1 February 2013.
Provisional figures published by the Department of Energy and Climate Change (DECC) have revealed that around 70MW of solar PV systems in the 0-10kW banding were installed during 5 August to 28 October – a level which was exceeded in just one week this time last year. For a 3.5% degression to be triggered in line with the Government's target capacity would need to reach 100MW, and this figure is considerably short of that mark.
DECC's new tri-monthly degression scheme has been widely criticised for its complexity. Commenting on the provisional figures, Philip Wolfe, a solar energy consultant and industry expert said: "These disappointing installation figures show how badly customers have lost faith in the feed-in tariffs.
"Solar system costs have fallen so fast that they are still economic at these current levels. But people are just baffled by the changes and increasing complexity of the new regulations," he added.
The feed-in tariff was introduced in April 2010 with the claim that it would be straightforward, predictable and stable but in the two and a half years since its launch tariff levels have been subjected to cuts on four separate occasions and the scheme has endured five major reviews and consultations.
The news of zero degression can be seen as both positive and negative. While it means that there shouldn't be a reduction in tariff levels on this occasion, the fact that solar sales have been so sluggish is certainly disappointing. Have people really lost faith in solar? Of course we will have to wait for DECC to publish their final official figures in the next few weeks before the degression percentage can be finalised. But if these provisional figures are anything to go by it would certainly seem that way.