Solar Underfloor Heating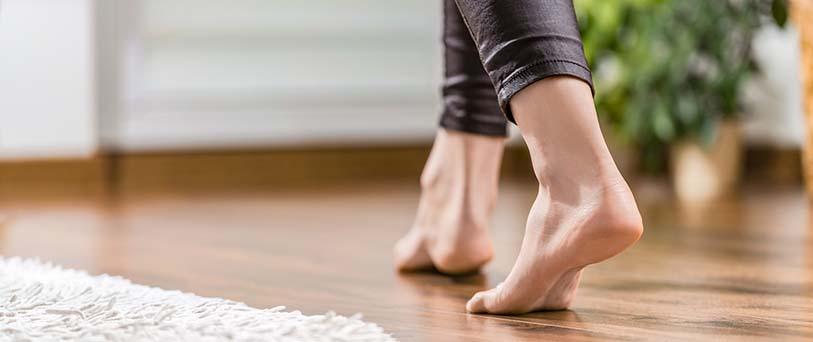 Not only can a solar thermal system provide you with hot water for your home, but it can also power underfloor heating.
Underfloor heating has grown in popularity in recent years in the UK and many homeowners have chosen it in place of more traditional central heating systems due to its high efficiency and low running costs. Providing a mixture of radiant and convection heat, underfloor heating can be powered using electricity or heated water depending on the type of system. For an underfloor system that uses heated water, also known as a wet system, solar thermal panels can contribute part of the necessary heated water.
If you're considering switching to underfloor heating it is highly recommended to first consult with a professional in order to assess your specific needs and circumstances. Here at Solar Guide, we're here to help you by providing up to 4 free and no-obligation quotes from our network of certified installers near you.
Get your best deal
Quickly compare up to 4 free quotes
It's free, easy and without obligation
Compare quotes & get the best prices
Save up to £608 per year
What is solar underfloor heating?
A 'hidden' heating system offers many benefits over conventional radiators and there's none more popular than underfloor heating. An underfloor heating system heats up the entire floor in a room at a low temperature (so not to burn your feet), with the heat rising up into space of the room.
There are 2 different types of underfloor heating systems:
Dry systems: Heat the room using electricity using a series of wires or electric heating sheets
Wet systems: Circulate hot water through a series of pipes
This means that no matter whether you have a solar photovoltaic (PV) system or a solar thermal system then you you can use the energy generated to power your very own solar underfloor heating system.
How solar underfloor heating works
Solar PV panels convert solar energy into electricity which can be used to power the appliances around the home and this can include solar underfloor heating.
A solar thermal store cylinder can be used to combine floor heating and mains pressure hot water.  The cylinders are designed to work with solar panels and a boiler but can also be adapted to take additional heat sources such as stoves, back boilers and heat pumps.
The water in the thermal store cylinder is heated by the boiler to around 60°C - 70°C. There are two coils within the thermal store that are linked together. The mains water enters the bottom coil and circulates through all the coils until it reaches its desired temperature at the top.
There are two tappings in the thermal store to provide heat for underfloor heating. The solar coil can be found at the lowest part of the thermal store, which is the coolest. This area of the cylinder is not heated by the boiler and is further cooled by the cold water coming from the mains and the domestic hot water coil. This allows for a higher level of contribution from solar energy towards heating.
Advantages of powering underfloor heating with solar
The biggest benefit of using solar thermal in conjunction with an underfloor heating system is the reduced energy bills. Once a solar thermal system is installed it has an extremely low running cost over its lifetime, so you can enjoy paying less for energy. This also means reducing your home's carbon dioxide production and being able to rely less on utility providers.
Solar underfloor heating considerations
Solar panels are only able to generate renewable energy in daylight. This means that you wouldn't be able to rely on them to provide energy for your solar underfloor heating during the evening and night – when you're likely to need it most.
However, renewable electricity from solar PV panels can be stored in a solar battery which can be used when the solar panels aren't generating energy.
Get free solar panel installation quotes
Interested in solar underfloor heating for your home? You can get free quotes for the installation of solar PV or solar thermal panels with our simple online form. You'll be connected with up to 4 local installers who will each provide a free quote for you to compare then you can go ahead with the installation confident that you're getting the most competitive price.
Get your best deal
Quickly compare up to 4 free quotes
It's free, easy and without obligation
Compare quotes & get the best prices
Save up to £608 per year