Solar Panels for Sheds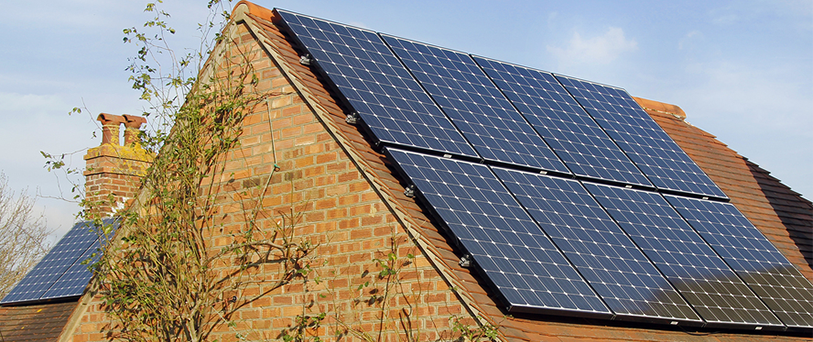 Solar panels for sheds or any other smaller building that you might be separate to your property can help to lower your energy bills.
When looking to turn to renewable solar energy, many homeowners have the solar panels fitted to the roof of their home. More often than not there's plenty of room on the roof of a home for a sufficient number of solar panels.
Solar panels or portable solar kit?
When looking for solar panels for a shed or outbuilding, you may come across portable solar panels. These are flexible solar panels that can be moved with ease at any time. This is opposed to solar panels systems that are professionally installed in a fixed location.
A portable DIY solar panel kit can be an option for very small sheds to power a limited number of electrical appliances. However, if you're looking for a higher volume of consistent power and the building will be connected to the grid, then you'll need professionally installed solar panels. Solar panels on a shed can even feed power back to your household.
In this article we'll be focussing on having a solar PV panel system installed onto the roof of a shed or other small outbuilding separate to your property.
Get your best deal
Quickly compare up to 4 free quotes
It's free, easy and without obligation
Compare quotes & get the best prices
Save up to £608 per year
Where can solar panels be installed?
Solar panels are commonly installed onto the roof of a property. However, this isn't the only option. This is particularly good news for anyone who considers solar panels to be an 'eyesore'. So rather than being installed on the roof of your home, solar panels could be installed on your shed or other outbuildings, such as a home office, workshop, studio or guest accommodation.
It's even possible to have solar panels installed on the ground and some models have solar tracking which means the panels follow the sun during the day.
Is a shed roof suitable for solar panels?
Not all shed roofs are suitable for solar panels. The additional weight of solar panels on a shed roof, depending on what it's made from, could be too much. Weight isn't the only concern either. The space available will determine how many panels can be installed on the roof which in turn will impact power output.
For optimal power output, the solar panels should be installed on a south-facing roof. This gives them maximum exposure to sunlight throughout the day. This doesn't mean that if the roof of your shed isn't south-facing then you can't have solar panels for your shed.
As sheds and other outbuildings tend to be lower than that of a house, it's important to consider shading. Solar panels are most efficient in direct sunlight so if the roof is close to trees or other buildings, sunlight could be obstructed at certain times of the day.
How much electricity can solar panels for sheds generate?
The amount of electricity a solar PV system installed on a shed roof can generate comes down to the number of solar panels, direction of the roof and the efficiency of the panels.
Typically, a shed roof is smaller than the house it belongs to, limiting the number of solar panels that can be installed on it. If your shed is relatively small, then there's a good chance the solar panels could meet most of the demand within the shed. So if your shed is used to plug in power tools or other electrical equipment then they can be powered by free renewable energy. This would require fewer solar panels than if you wanted a solar PV system that could meet the electricity demand of your entire property – saving you money on the installation.
Alternatively, the solar panels can direct electricity from the shed to the home. To achieve this wiring would have to stretch from the shed to where the electricity meter is fitted (most likely the house).
How many solar panels will I need?
The number of solar panels that need to be installed on your shed will vary depending on the energy demand. If you simply want the solar energy to power a handful of electrical appliances in a shed, a small solar PV system will suffice. However, if you're looking to power an outhouse for guest accommodation or direct energy back to your home, more solar panels will be needed.
Average annual energy consumption of UK homes sits at 3,800 kWh. So to cover the entire electricity demands, 12 320W solar panels would need to be installed. Typically this will require more than 25 square meters of roof space. This would require a fairly large shed or outbuilding to generate enough electricity to meet high demand.
Energy demands of an outbuilding for guest accommodation are likely to be much lower than the average demand. So a smaller system would likely do the job. Using the table below, you can get an idea of the space needed on a roof to build a solar system of certain sizes.
| Solar PV System Size | Necessary roof space (square meters) |
| --- | --- |
| 1kW | 8+ |
| 2kW | 12+ |
| 3kW | 20+ |
| 4kW | 25+ |
Is it worth building a shed to have solar panels on the roof?
If you're thinking about building a shed or outhouse in your garden then you have an opportunity to position it in an optimal place for solar panels. This is a great option if the roof of your property isn't in the most suitable position for solar generation.
Should you decide to go ahead with the project, it would be worth consulting with a solar installer ahead of time. An MCS certified (or equivalent) solar installer would be able to work out how many solar panels you'll need to meet energy demand. This will then help to give you an idea of optimal roof size.
Best type of solar panels for sheds
A solar PV system can include solar panels made up of either monocrystalline or polycrystalline cells.
Both types of solar panel do the same job – converting solar energy into usable electricity – but are designed in slightly different ways. The difference between them is that monocrystalline solar panels contain single crystal silicon while lots of silicon fragments are melted together to form polycrystalline panels.
These designs result in monocrystalline panels offering higher levels of efficiency, which means more electricity being generated. However, polycrystalline solar panels are often available at a lower price.
As fewer solar panels are likely to be installed on a shed then the more efficient the better. For this reason, monocrystalline solar panels have the advantage when it comes to solar panels for sheds.
Find out more about the different types of solar panels in Monocrystalline vs Polycrystalline Solar Panels.
How much do solar panels for sheds cost?
Solar panels for sheds will cost the same as solar panels for a house. Fortunately, they aren't as costly as they once were.
The average UK home will need a 3 kW or 4 kW solar system. This will potentially cost between £5,520 and £6,040. So if your aim is for the solar panels for your shed that will meet demand in your home, this is how much you might expect to pay.
However, you will need a smaller solar PV system, potentially with far fewer solar panels, if you're only looking to subsidise your energy demand or provide a small amount of power to the shed or outbuilding. And with the average cost of a 1 kW solar system being around £1,840 this gives an idea of how much you might expect to pay.
In addition to the solar panel cost, you will also need to factor in the installation. We highly recommend comparing solar installation quotes from multiple installers. To make finding quotes easier, complete our simple online form today.
As you pass through the online form – which should only take a few moments to complete – we'll ask a few questions about the planned solar installation. Once you've finished, we'll connect you with up to 4 solar installers based in your local area. Each will provide free quotes for the work which you can then compare. This will give you the confidence that you're getting the most competitive price from the best installer.
---
Get Free Solar Panel Quotes:        Get quotes and compare prices.
---