Red Tape Thwarting Renewable Energy For Farmers
Farmers looking to embrace the advantages of renewable technology such as solar panels are being put off by red tape.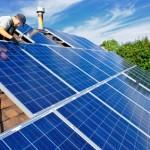 According to the Country Land and Business Association (CLA) Wales, many of its members are interested in introducing renewable energy sources, such as solar and wind power onto their land. Unfortunately, it seems their efforts are being thwarted by unnecessary lengthy application procedures – some of which, in extreme cases, can take up to two years to process.
John Homfray, who is the chairman of the CLA Wales, is looking to invest in solar energy but has been left frustrated by the amount of time it can take to get the necessary planning permission.
"I'm trying to get solar panels added to my roof and even for that planning permission can take six months, which means we would miss the whole summer," said Mr Homfray.
"I don't know if this is just a Welsh thing but it is unbelievable," he added.
Ben Underwood, who is a director at the CLA believes there is mounting frustration over the lack or direction and unnecessary bureaucracy when it comes to trying to set up micro-hydro generation schemes. Constraints imposed by the Countryside Council for Wales and the Environment Agency – coupled with the huge costs involved in linking to the national grid – are all mitigating factors.
"CLA Wales is enthusiastic about the cutting-edge technology that can help to deliver green energy, but not at the price of the environment it seeks to protect," commented Mr Underwood.
Speaking at the Royal Welsh Show in Llanelwedd, the CLA's policy director Sue Evans said:
"We should be making entrepreneurship easier for people in Wales, but it is like wading through syrup at the moment."