"My wife and I are very pleased with the process from start to finish. Communication concerning the job as a whole was particularly good".
Colin, Spey Bay
Solar Thermal and Solar PV

There are many benefits and incentives to be had from installing Solar Thermal and other solar technologies such as Solar PV...
Benefits of Solar Thermal
You'll be able to claim the Renewable Heat Incentive from its domestic launch in 2014.
Produce up to 1/3 of your hot water.
Reduce CO2 emissions by up to 530kg.
Reduce heating bills by up to £65 p/a.
Benefits of Solar PV
Sell electricity back to the grid via the Feed-In Tariff.
Reduce CO2 emissions by up to 1 tonne.
Reduce energy bills by up to £200 p/a.
Up to 10% tax-free return-on-investment.
Calculate potential profit with the Solar Guide Solar PV Feed-In Tariff Calculator.
Find a Solar Installer by Region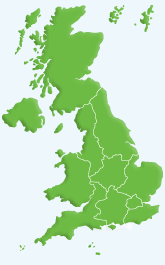 Recent reviews
The Solar Guide feedback system only accepts ratings from customers introduced to companies via the free quote facility. This ensures all reviews are genuine and trustworthy.
Very friendly team both sales and work staff polite and efficient.

On by

Dennis

from Banbury

We are extremely pleased with the installation work by Agenda Electrical. Necessary follow up work has been or is being attended to. Aside from their work I found some Chinese instructions (English translations) difficult to follow - both before and after installation.

On by

Brian

from Kirkham

Arrived on time both days. Completed work to a professional standard. Trevor assisted with the paperwork to commission the system. So, all in all a very professional result.

On by

Paul

from Reading

From start to finish Aniron were excellent. There was absolutely no hard sell (a huge plus when I was busy getting quotes from 6 companies) and Brett was able to answer all my queries quickly, putting my mind at rest. The price was really competitive and the installation was really smooth....

On by

Jenna

from Gamlingay

I was very pleased with all aspects of this installation. The initial visit was informative and comprehensive with plenty of written information to peruse later. The price was not the cheapest that we received but offered a quality product with some extras. The installation itself with most of...

On by

Trevor

from Campsie

After having 3 quotes we decided to use GM Energy this was part of a local scheme they installed Solar PV to 18 roofs. Very professional service. Recommend to any property developers who need guidance.

On by

Duncan

from Bayston Court
Solar PV Feed-In Tariff Calculator

With the launch of the Government's Feed-In Tariff, electricity generating solar photovoltaic (PV) installations are now a viable proposition for domestic households.
With a guaranteed 20 year income installations can pay for themselves in under 10 years, with any revenue generated thereafter being pure tax-free profit.
Whilst it's easy to generalise these figures every installation and circumstance is unique and for that reason it's important to research the viability of Solar PV for your own specific requirement.
Try our neutral and un-biased Solar PV Feed-In Tariff calculator to assess feasibility. If it works for you then please ensure you request quotes from MCS certified installers to benefit from the feed-in tariff.
Government Grants and Incentives for Solar
Solar panels and the Green Deal


October 2012 saw the launch of the Green Deal, a Government scheme which is set to revolutionise Britain's poorly insulated and ageing housing stock. Through the scheme customers will be able to apply for funding from the end of January 2013 to install energy efficiency home improvements including solar panels and other microgeneration technologies.

Feed-in Tariff for Solar PV


The Feed-In Tariff, also known as FIT, became available in the UK on April 1 2010 and is the electricity sector of the Clean Energy Cash Back scheme - a Government-backed scheme that pays people who create their own electricity using green technology including solar PV panels.

Renewable Heat Incentive for Solar Thermal


Homeowners, businesses and communities wishing to benefit from reduced energy bills and environmentally friendly technology will be able to do so through the upcoming Renewable Heat Incentive (RHI) and Solar Thermal.
Solar PV & Solar Water Heating Information
Find a Solar Installer by City
Latest News
By Katie Anderson - 4 November 2014
We knew it was on the cards but we now have official confirmation from energy regulator Ofgem: solar feed-in tariffs (FiTs) are to fall by 3.5% in January.  It means tariff rates for domestic solar photovoltaic (PV) installations will drop … Continue reading →
Latest Articles