Council Admits Over-Zealous Interpretation of Planning Regs
A council has apologised for its over-zealous interpretation of planning regulations, which saw it accused of hampering residents' attempts to install solar panels.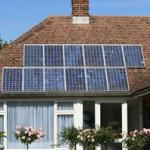 In what the solar industry is hailing as a "hard fought victory", Eden District Council in Cumbria has admitted it was wrong to demand homeowners apply for building regulation clearance before fitting solar panels.
Solar installation company Eco Environments led a campaign against a number of councils that it believed was giving misleading advice to homeowners who were interested in installing solar panels. Eden District Council has admitted that planning officers have changed their policy and have accepted that homeowners seeking to install solar panels do not have to apply for building regulations, as long as their chosen installer is certified under the Government's Competent Person Scheme.
"We were asking the Government to clarify the scheme and we're now satisfied," a spokesman for the council said, adding:
"The government scheme now shows that when fitters sign up to the scheme they have building regulations (certification) as well."
The director of Eco Environments, David Hunt said there was no excuse for councils to ask homeowners to apply for building regulations clearance or submit planning applications when installing solar panels.
Mr Hunt went on to say that it was "a great shame" customers had been made to suffer unnecessary stress and financial costs during the council's flouting of Government guidelines.
The Government has streamlined its planning permission rules for small-scale solar rooftop installations, with only protected properties having to apply for planning permission.