Wales is about to enjoy a solar farm boom
Cornwall isn't the only area of the UK that has seen the sense of investing heavily in solar PV. Now Wales has joined in too.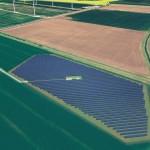 Despite the government's proposals to further slash the Renewable Obligation (RO) support for solar PV – which the Solar Trade Association calls unjust – Wales has begun to attract major investors keen to promote renewable energy
So far, developers of large scale solar farms have been eyeing up the South West of England on account of its higher levels of solar energy, but module prices have now crashed to such an extent that the Wales slightly lower irradiance is no longer much of a problem for those wanting to begin a new solar power project. Consequently, local authorities across Wales have begun to favour new applications for solar farms. Pembrokeshire Council for example has recently approved two such applications, a 7.5MW installation at Clawddcam near Mathry and a 4.96MW park at St Florence near Tenby.
Kronos Solar has submitted plans to Pembrokeshire Council for a 13MW solar park consisting of some 60,000 modules across almost 70 acres of land. Another application in the pipeline is for a project that could potentially become the largest solar park in the UK - a 40MW scheme proposed by Cirencester firm Inazin Solar for land near Pembrey Airport covering 200 acres of low-grade land. When complete this monster will consist of some 160,000 solar panels which will help to reduce the annual Welsh carbon footprint by 14,500 tonnes of CO2.
"The sun hours are excellent from a generating energy perspective - apart from Cornwall and the Isle of Wight, it is the best" says James Owen, Inazin Solar's Accounts Manager. Director of Kronos Solar, Alexander Arache, agrees. "We looked at several solar park sites in Wales and there were two or three great areas but this was the best site" he says. "The great thing about its location is that it's practically invisible from the surrounding area, that's why this site is so good. Not only is there very limited visibility, it's acceptable to the area and it also is not stealing any great farm land as it is low grade land"