New Feed-In Tariff Levels Come Into Effect Today
We've known it's been coming since March, and as of today, new feed-in tariff (Fit) levels for large-scale solar panel installations will come into effect.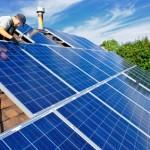 In a move that sees tariffs reduced in favour of smaller solar projects – which the Government reviewed to prevent commercial organisations profiting from the subsidies that weren't designed for them – critics have argued that the new levels will essentially make solar installations over 50kW financially unattractive, with today signifying the end of the UK's solar industry as we know it.
The change in the feed-in tariff has seen a flurry of large-scale solar projects having to race against the clock to complete before today's deadline. One such installation is a 4,300 solar panel farm built on a ten-acre facility in Stow, near Lincoln, which was finished on Thursday, just in time for today's cut-off point.
According to project developer Freewatt, more than 1.5 million tonnes of CO2 will be saved each year. At its full capacity, the £8.5 million solar farm will produce one megawatt of electricity, and within a year, it is hoped enough electricity will be generated to power 970 households, after it is extended to a 3.3-megawatt facility.
Incentive rates for PV systems over 50kW have been drastically cut, by up to 70% in some cases, and from 1 August, new entrants into the Government's feed-in tariff scheme will be eligible for the following amended tariff rates for solar PV:
50 kW - 150 kW Total Installed Capacity – 19.0p/kWh
150 kW - 250 kW Total Installed Capacity – 15.0p/ kWh
250 kW - 5 MW Total Installed Capacity (and stand-alone installations) – 8.5p/kWh
The new rates mean that the brakes have been well and truly applied to many community-backed schemes, which would have seen solar panels installed on hospitals, schools, and council buildings.