UK's Biggest Solar Farm Starts Generating Electricity
As developers dash to beat the looming feed-in tariff deadline, today marks the launch of the UK's biggest solar farm.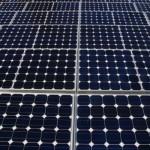 The 7.2 acre, 1.4 megawatt solar farm park near Truro in Cornwall is the largest solar installation in Britain, and one of up to ten large-scale solar farms being rushed into operation before subsidies for commercial solar energy projects are controversially cut off at the beginning of August.
Built on the site of a disused tin mine, the farm will power 430 local homes from its 5,680 photovoltaic panels. The Wheal Jane solar farm was designed and installed by Solar Century. The project was developed by Lightsource Renewable Energy as part of a wider scheme to turn the old mine site into a business park using energy from solar, wind, hydroelectric and geothermal sources.
Developers worked around the clock to finish the project in time to beat the tariff cuts. Originally set to go online by the end of August, they were forced to bring both projects forward, at significant extra cost.
Ecotricity has also announced the completion of its 1 megawatt solar farm park in Lincolnshire. The installation has been constructed on Fen Farm on land next to the Conisholme 20-turbine wind farm and is expected to generate enough electricity for nearly 300 average homes.
The Fen Farm facility has been part-funded by Ecotricity's EcoBonds, which allowed customers to invest in green energy and earn money from the electricity produced.