6.3MW solar farm planned for Southampton
A solar farm with more than 25,500 photovoltaic panels is to be built in Southampton by Solarcentury, one of the UK's most experienced solar energy companies.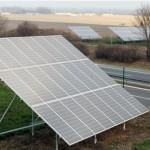 Set to be up and running by April 2013, the project developers only got the green light for the 6.3MW solar farm late last week by Eastleigh Borough Council. Speaking to Business Green at the beginning of the week, Solarcentury confirmed they were aiming to complete the solar park's construction within the next three months. In doing so, the project would be in line to achieve the best possible subsidy – currently two Renewable Obligation Certificates (ROCs) per MWh for large scale solar farms.
The Government is to slash solar subsidies from April 2013 onwards. Initially it was thought the level of support could be taken down to just 1.5 ROCs for solar PV projects in excess of 5MW. However the Department of Energy and Climate Change has today confirmed that ground-mounted solar installations with more than 5MW of capacity will receive 1.6 ROCs from April. Building-mounted systems will achieve 1.7 ROCs.
The 25,632 solar panel installation is set to be built at Chalcroft Farm, Burnetts Lane, West End and will cover more than forty acres of farmland and will produce enough energy to provide power for around 1,800 homes. Something of a milestone for the company, this particular project will be the first solar farm Solarcentury has both developed and built. To date the company has designed and built 10 UK solar farm parks.
Commenting on the project, Keith House from Eastleigh Borough Council said he was pleased to see the scheme achieve planning approval. "The Borough prides itself on leading the agenda on tackling climate change and the Chalcroft Solar Farm will contribute to reaching our ambitious target to reduce C02 from the Borough by a third by 2020."
In related news, the UK is set to see its biggest solar farm built following proposals for a 200,000 panel development facility, which – dependent on receiving planning approval – will be built near the market town of Fareham in the South East at a cost of £40 million.