Leicestershire County Council to invest in solar panels?
Councils are no stranger to embracing solar energy as a means of cutting their carbon footprint and energy bills. Leicestershire County Council is one of the latest to be considering installing solar photovoltaic panels at its Glenfield headquarters.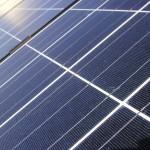 Leicestershire County Council has the ambitious task of cutting a whopping £110 million from its budget by 2018.
With annual energy bills of around £1.5 million – its County Hall headquarters at Glenfield being responsible for just shy of half that figure – the council has plans to implement a range of energy efficient measures to help bring its escalating costs down. And it's turning to renewable energy to help achieve its goals.
The largest of the projects being proposed is a 600 panel solar array on roofs at County Hall and other suitable council buildings across Leicestershire. A biomass boiler would also be installed to replace the old gas fired heating system, with improvements to existing windows and lighting to make additional savings.
Being a large energy consumer, the council gets taxed £600,000 every year in carbon reduction payments by the Government. The new proposals would reduce its bills by an estimated £400,000 a year and enable the council to save around 400 tonnes of carbon emissions.
"At a time when we have to save £110 million, it makes sense to put our own house in order and do what we can to cut energy bills," explained deputy council leader Byron Rhodes.
Read more about the costs, savings and benefits of solar PV panels before sourcing quotes for free from MCS solar professionals by visiting our quick and easy to use quote form.