Harborough Council green lights UK's first Solar House
Leafy Leicestershire has been chosen as the location for the UK's first ever 'Solar House'. The carbon neutral home has recently been given the green light by Harborough District Council.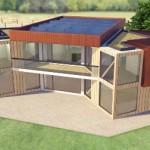 Caplin Homes are hoping the property, which is to be built in Stretton Road Great Glen, a village around seven miles south east of Leicester, will demonstrate to fellow builders that "zero carbon living can be achieved at reasonable cost."
A variety of green and sustainable technologies will be embraced as part of the two-story build, most notably hybrid solar panels – a combination of solar photovoltaic cells and solar thermal collectors – which will be more than able to meet the property's electricity demands as well as its heating and hot water needs. Set in two acres, the proposed 4 bedroom dwelling will also feature a heat pump and triple glazing and is set to be self-sufficient in energy for the majority of the year. Solar energy collected during the summer months will be stored by heating the ground underneath the dwelling which will be retrieved through a heat pump in the winter.
"We are very excited to have been given the green light to build the Solar House and to demonstrate that Zero Carbon living can be achieved at reasonable cost," said director of Caplin Homes Michael Goddard.
"Our ambition is to prove to UK house builders that it is possible for them to build houses to these standards and to provide them with the means to do so," he added. "This will make a significant contribution to our country meeting its 2020 carbon reduction targets and enable householders to be set free from ever increasing energy bills."
Planning permission was granted back in December, with Harborough District Council giving the project the go ahead, noting that the proposed property "reflect[ed] the highest standards and innovations in technological design" and that the building would "integrate well with its surroundings and "have little or no adverse visual impact." The council added that the combination of solar technologies added to the project's outstanding and innovative technological design. The innovative design will feature bronze metallic solar wall panels to pre-heat the incoming ventilation air and a roof canopy of solar panels, which will be bordered by areas of living sedum.
Caplin Homes has teamed up with Newform Energy, a global leading provider of renewable energy products in Faversham, Kent and John Cotterill Sustainable Architecture. De Montfort University will also be playing a pivotal role in the project. Students from the university's Institute of Energy and Sustainable Development will independently monitor and analyse the energy performance of the house for 12 months, the results of which will be available to the public.
Based in Leicestershire, Caplin Homes specialise in building low energy timber framed houses. Work has already commenced on the Solar House with a completion date set for August, after which Kibworth estate agents Country Properties will be listing the property on the market for "£1 million plus".