Norwich City Hall Investing in Solar Panels
A project to install solar photovoltaic panels on the rooftops of Norwich City Hall looks set to be given the go-ahead, when the City Council's cabinet meets next week.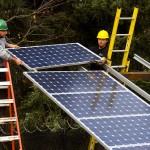 With an annual electricity bill in the region of £110,000, the council wants to cut its rising energy costs, as well as make money by selling electricity back to the National Grid.
Officers say the project would pay for itself through income and energy savings within a 13 year period - but only if it is installed by the end of March next year, before the subsidies provided by the Government's feed-in tariff scheme are due to be changed. Failure to get the system up and running before then would mean the council would received 2.7p less per kilowatt hour.
"This is a way in which we can lead by example when it comes to making a contribution to the environment," said Brenda Arthur, the leader of Norwich City Council.
"While a decision has yet to be made, we are very positive about this. This is a consequence of us finding new ways of working in a climate where we are having to make cuts. It is saving money, but will also generate income for the council."
City Hall was found to be the most ideal building to install solar panels, because it uses so much more energy compared to other council owned buildings. However, work is unlikely to start for a good six months, as the building is grade II listed, and the council will need to apply for listed building consent before the panels can be installed. The council also needs to go out to tender for a company to install the system.
A decision on whether to progress with the City Hall solar panels scheme will be made at the cabinet meeting next Wednesday.
Installation of the solar panels is set to cost Norwich City Council £235,000.