Hampshire County Council Looking to Invest in Solar Energy
Hampshire County Council could be about to invest in solar energy, as it looks set to install solar panels on 200 of its buildings, in an effort to reduce rising energy costs.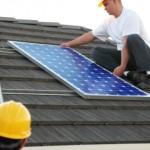 At a cost of somewhere in the region of £15.8 million, the council says the installation of the solar PV panels could help it to save £10 million on its bills, which it estimates will have doubled by 2020. The council estimates its energy bill, excluding schools, will rise from £4m to £8m by the next 10 years, and that it will have trebled to £12m by 2030.
Around 200 of its buildings, excluding schools, are suitable for photovoltaic panels. County chiefs say the project could pay for itself within 15 years, through smaller energy bills and income from generating electricity under the Government's feed-in-tariff (Fit) scheme. Under the scheme, solar panels installed before March 2012 will have their Fits guaranteed for 25 years. But with an energy review planned shortly, it's highly likely that connections to the grid after March 2013 will attract a lower rate and therefore generate less cash for the council.
So far, the technology is being used on around a dozen council buildings, but the council is looking to expand the eco-friendly scheme to more of its buildings, starting in Winchester early next year. Officers have identified 31,000 square metres of roof space across the county as suitable for panels and the plan is to install a quarter of the panels by March 2012 to cash in on the feed-in-tariff scheme.
Councillor Keith House, leader of the Liberal Democrat opposition group, welcomed the solar scheme as a "win-win" situation, bringing both environmental and financial benefits. However he criticised the council for not moving quicker to take full advantage of the higher level tariffs by putting more solar panels on its buildings.
"It is good that Hampshire County Council is doing this but it could have been done faster," he said.
The solar project would also reduce the local authority's carbon footprint. A final decision will be made by the council in the autumn.