Installing Solar Panels is Financially Beneficial
More and more homeowners are discovering the financial benefits of solar energy, says green energy firm Eco Environments.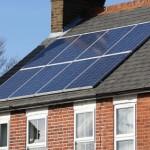 According to the Liverpool-based firm – a £1.4m business which designs and installs solar panels, wind turbines and heat pumps – homeowners are increasingly turning to solar panels to secure cheap electricity and turn a profit.
As energy companies continue to hike their prices, the financial benefits that result from fitting solar PV panels is becoming a real incentive for many people, even outweighing the environmental benefits.
The sales and marketing director of Eco Environments, David Hunt,
"Most people are looking at it now domestically because they are going to get two or three per cent on an ISA or out of the bank account, but with the solar they can get 15 per cent," said David Hunt, sales and marketing director of Eco Environments.
"There are reduced energy costs and the return on investment; that is what is driving the domestic market," he added.
Eco Environments currently has 23 staff working across its six UK sites. The company is looking to increase its headcount to 50 on the back of rising demand for green energy installations and is looking to increase turnover to £5m in two years.