Solar Schools project celebrates its first day
The new Solar Schools project has been established as a means of encouraging schools throughout the UK to convert to clean energy. Each school sets a fundraising target for their own solar roof and then invites interested parties to contribute.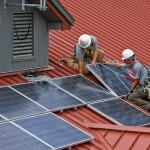 The beauty of the project is that it allows pupils, parents, local businesses, former students, and anyone else who is interested in helping the project, to participate. The scheme was set up by 10:10, a network of people all across the country that is interested in taking practical and positive action to tackle climate change. As well as helping schools to go solar, 10:10 also shares energy saving tips among its 100,000 strong membership, attempts to support local authorities in cutting their energy bills and lobbies the government to persuade politicians to do something about climate change.
Currently at least 21 schools have joined the Solar Schools website. Three schools have had representatives speaking about their projects on BBC local radio and there have been at least 220 tweets on Twitter about the project over the past 2-3 days. A number of teachers, parents, students and volunteers have also written blogs and so far, since the start of the project in May this year at least £70,000 has been raised by schools throughout the country participating in the project.
Solar Schools was created out of a desire by many schools across the UK to install their own solar PV systems so they could cut their carbon emissions. 10:10 helped to make this possible by providing on and offline resources, training and support for crowd-funding programs across the country thereby enabling schools to call on their communities and other interested individuals, groups and businesses to help them go renewable.
"As well as cutting down our energy use" said Andy Whittle, the Headteacher at Hethersett Primary School in Norfolk, "we can use solar panels to educate the children, families and the local community about the importance of cutting back on carbon emissions and we will be saving money which we can then put back into the school."
The role of the Solar Schools website is to assist schools with their usual fundraising efforts. The website features blogs, tweets and photos of each school on individual schools pages. The project further helps the schools by calling for donations, spreading the word and encouraging people to join in. The project began life as a pilot scheme last year featuring eight schools which were given tools, resources and support to help them go out into the community and start fundraising, this was an instant success and in May this year the project was expanded to include schools right across the UK from small primaries to large secondaries and academies.
So, it's now up and running so if you are connected to a school interested in renewable energy and you'd like to get involved, do contact them and join in.