"Green Train" Runs On Sun Power
The first solar powered train service has been launched in Europe. The high speed service, which runs from Paris to Amsterdam, now runs partially thanks to the power of the sun.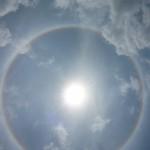 The train, which set off from Antwerp station earlier in the week, heading from the Dutch border, uses power generated from solar panels on the roof of a two-mile-long tunnel, which was originally built to protect the railway line from falling trees. Sixteen thousand panels have been added as part of an initiative to reduce the rail industry's carbon footprint.
With plans to reduce CO2 emissions by 2,400 tons per year, the tunnel will generate enough electricity to power all of the trains in Belgium for the equivalent of one day per year. Installation of the solar tunnel was the result of a collaboration between Belgian rail operator Infrabel and the renewable energy developer Enfinity.
"For train operators, it is the perfect way to cut their carbon footprints because you can use spaces that have no other economic value and the projects can be delivered within a year because they don't attract the protests that wind power does," said Bart Van Renterghem, UK head of Belgian renewable energy company Enfinity.
Energy generated from the solar panels will also power lighting, signalling, and the heating of railways stations.
Following in similar footsteps, the new Blackfriars station in London, which is due to open in the spring of 2012, will host the largest single collection of solar panels in the UK. The roof of the new station will have 4,400 panels and a capacity of 1MW, enough to provide 50 per cent of the station's electricity. However, the development is not dependent on the level of government subsidy for solar power as the £7.3m bill was paid by the transport department's environment fund.