Global solar PV predicted to reach 756 GW by 2025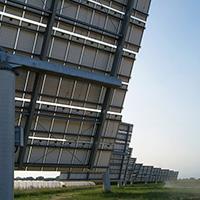 GlobalData have reported that global installed capacity of solar PV is set to reach over 756.1 GW by 2025. The report explains that capacity will increase from 271.4 GW in 2016 at a compound annual growth rate (CAGR) of 13.1% (however this is a drop from those seen over the last decade at 50.1% CAGR).
GlobalData have also predicted that China will remain a large influence on the global renenwables market. Blue & Green Tomorrow shared comments from Pavan Vyakaranam, GlobalData's Project Manager covering Power, on China's part in solar growth:
"China is a world leader in renewable energy investment, having proved itself a leader in wind power installation, wind turbine manufacturing, and solar PV manufacturing. Solar PV capacity in the country will continue to grow during the forecast period, from 60.5 GW in 2016 to 236.7 GW in 2025, at a CAGR of 18.5%."
"Solar PV will play a significant role in China's future energy supply, as the government looks to this resource to meet growing energy demand. The central government, spurred on by growing environmental concerns, has planned many initiatives for rapid development of the domestic PV market. For example, China has implemented a Feed-in Tariff (FiT) scheme for utility scale and incentives for roof-top PV, while the National Energy Agency has been promoting off-grid solar installations."