Solar is the global renewable energy of choice
2011 saw solar power overtake wind energy as the renewable energy technology of choice, surging ahead despite pressure on budgets and cuts to incentives.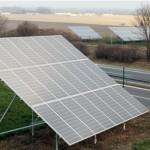 For both investors and end users solar continued to dominate the renewable energy market globally, with investment in solar power rising by more than 50% in 2011, it attracted almost twice as much investment compared to wind. That's according to two new reports published recently which looked at renewable energy trends worldwide.
According to the Global Trends in Renewable Energy Investment report – compiled by the UN Environment Programme – last year saw worldwide investment increase by 17%, to $257 billion. Although China remained the lead investor in the rankings, the US edged closer to the top spot thanks to a 57% leap in outlay to $51 billion and Indian had the fastest expansion rate with a 62% increase in investment to $12 billion, thanks in part to the country's National Solar Mission.
A similar report, the Renewables Global Status Report – published by the Renewable Energy Policy Network for the 21st Century – revealed that there was steady growth in renewable energy technology markets in 2011, most notably solar, thanks to continuing expansion in to new markets. But 2011's increase was, however, down on the previous year which saw a 37% growth in global renewable energy investment.
The report also highlighted how the costs of solar technology fell quite considerably last year, with solar PV module prices falling by near on 50%.
Solar PV aside, there's growing interest in solar heating and cooling globally and biomass is also expanding worldwide.