Global solar PV capacity exceeds 100 GW
Figures published by the European Photovoltaic Industry Association, one of the most powerful voices of solar PV in Europe, have revealed that worldwide solar PV capacity has surpassed the 100 GW milestone.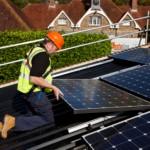 Unimaginable 10 years ago, 2012 saw worldwide cumulative solar PV capacity sail past the milestone mark; after adding between 30 and 32 GW of capacity the total figure now stands at 101 GW.
Once the final figures have been received, an additional 1-2 GW could potentially be added to that figure. However, the number of installations in 2012 failed to substantially increase on the 30 GW cumulative capacity achieved the previous year.
According to the European Photovoltaic Industry Association (EPIA) the new market figures indicate a shift in photovoltaics in non-European markets, with some markets in Europe being outstripped due to growth in Japan, China and the United States. Indicating a shift towards a more global solar PV market non-European installations hit 13 GW, up on 2011's figures (slightly under 8 GW), while European capacity reached almost 17 GW in 2012, down on nearly 23 GW the previous year.
The top three non-European markets in 2012 were:
China (3.5 GW to 4.5 GW)
United States (3.2 GW)
Japan (2.5 GW)
The top three European markets in 2012 were:
Germany (7.6 GW)
Italy (3.3 GW)
France (1.2 GW)
Commenting on the published figures Winfried Hoffman, EPIA President said that the results indicated a strong market globally for solar panels, despite challenges faced by the industry including reductions in feed-in tariff subsidies: "Even in tough economic times and despite growing regulatory uncertainty, we have nearly managed to repeat the record year of 2011."
Hoffman added that Government policies would continue to be key if solar PV technology was to evolve into a mainstream source of electricity.