Evergreen PV aims to become solar market leader
The solar company Evergreen PV has expanded its business by moving into the commercial sector alongside its existing domestic services but it is also striving to become one of the most progressive solar PV companies in the country.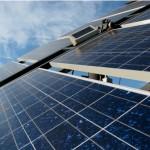 The Oxfordshire-based company covers the whole of the UK and was founded in 2010. It has spent the last two years attempting to source top quality solar products that have not so far been available in Britain. Top quality inverters are now included in the Evergreen range of solar PV products at a 30% saving compared to competitors and the company has also created a 24/7 support team promising to visit any site within the UK.
"We've been talking to manufacturers of solar products from all four corners of the world" said James Woollard, Managing Director. "Because we've taken the time to do this, we have been able to source the best products out there, providing us with a competitive advantage through product design, quality, service, and price. There are a few other companies doing a similar thing, such as Power One and SMA, but in my opinion none are as passionate as we are. Quality and customer service is at the heart of everything we do, where all our products come with a minimum 10-year warranty, as well as being MCS approved."
The company are also trying to prepare for the government's forthcoming Green Deal energy efficiency scheme which will be open for business in October this year. They aim to provide the very best in solar PV technology from top of the range solar panels to top quality inverters. Mr Woollard is confident that the UK will be able to replicate the achievement of Germany recently when that country produced about 10% of their national energy demand from solar PV alone. He praises the German market as being "streamlined, low-cost and very efficient" and believes that Evergreen should strive to achieve this in the UK. Seemingly unaffected by recent negative headlines concerning solar in the UK, he is keen to stress the enormous advantages of turning to solar.
"For home owners, using our solar PV systems will reduce the amount of electricity they need to buy" he says. "Plus it can really add value to their homes. For businesses, again our solar PV systems will lower expenditure on utility bills. We also now install everything too, anywhere in the UK."
At a time when there is widespread gloom concerning the recent solar slump, Evergreen are trying to stay ahead of their game, particularly by trying to sell the idea of integrating solar PV into the structure of new building, thus enabling businesses to flaunt their green credentials.
"In a world concerned about climate change, this could also prove a great marketing tool, as many customers are seeking companies who are environmentally responsible and who they see as the 'greener' option" Woollard says. "We're excited about the future, and looking forward to helping the UK become one of the most energy efficient countries in the world."