Samsung partners with Sundog Energy to enter UK market
Samsung is the massive electronics giant from Korea that many people know about from their popular mobile phones. Now they intend to push deeply into the UK Solar energy market and have teamed up with Cumbrian-based Sundog Energy in order to do so.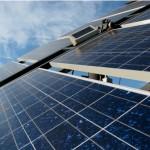 Sundog's distribution division, based in Penrith, will be the first UK company to stock Samsung's black-framed 250 W panels. The company is one of the fastest growing independent renewable energy companies in the UK and was originally set up by meteorologist Martin Cotterell in the hamlet of Matterdale End before he moved the company to the North Lakes Business Park. Sundog is known for taking on some of the most aesthetically pleasing and technically demanding installation projects in the country such as the array on the glazed roof of Kings Cross Station in London. Recently it won a contract to install solar panels on the roof of Bradford Cathedral which is attempting to become the first cathedral in the world to produce its own solar energy.
Samsung products are well known for their reliability and quality and the company manufactures market-leading PV panels and so interest is already running high among those looking for premium-grade solar PV panels.
"We believe Samsung and Sundog are a perfect fit" said Martino Lim, Director of Samsung's Solar Marketing department. "We are both highly ethical companies and this, together with Sundog's reputation for technical excellence means we can provide customers with a range of products and services that are second to none. We look forward to working with the Sundog team to maximise our footprint in the UK."
Meanwhile Sarah Lennie, Director of Sundog Wholesale, said: "We are delighted to be working with Samsung and as one of the most-respected wholesalers of solar PV in the UK, we have the established contacts and infrastructure to fully support Samsung, moving forward. The new panels fit well in our product range and really do meet rising demand for high power, top brand panels from people who care about the environment. Our customers can rest assured we only supply products we have carefully evaluated ourselves which is one of the reasons we can offer unique technical back-up and so much more than just another 'pick and ship' distribution service."
Alongside many challenging projects, Sundog has also completed what is thought to be one of the largest installations in the north of England - on the roof of an old 1908 cotton mill in Oldham, Lancashire. The company designs and installs solar PV systems for both domestic and commercial premises and in 2011 was the first solar power company to be awarded the coveted Investors In People Silver Award.