Enphase Energy enters UK market
The California-based microinverter manufacturer Enphase Energy has entered the UK solar PV market by launching Enphase Energy UK and appointing a new UK manager as well as registering with the British Photovoltaic Association (BPVA).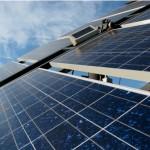 Enphase Energy UK will serve the whole of the UK including Scotland and Northern Ireland, providing a locally-based technical, sales, marketing and training team. Sales and management veteran Paul Nightingale, who has formerly worked as UK manager for Danfoss Solar Inverters, will lead the new UK division. Nightingale has a strong background in strategic sales, marketing and business development and has over two decades of management experience. He will be responsible for the creating and developing the Enphase UK business plan as well as developing the sales channel and support infrastructure.
"Enphase technology delivers a powerful combination of performance and safety benefits, plus lifetime monitoring, making Enphase an ideal solution for the UK solar market," says Nightingale. "My focus is on creating a sustainable business for Enphase in the UK that is recognised for quality, innovation, service and reliability."
Enphase is one of the leading microinverter manufacturers in the world and was one of the two biggest market share leaders within the solar sector in 2011 alongside Solar Edge according to IMS Research. It started supplying microinverters to Europe late last year and is also working in China with a view to attaching microinverters to Chinese solar systems prior to shipping. UpSolar and Hanwha SolarOne are two Chinese companies who have already agreed to such a deal.
Microinverters provide a useful alternative to central inverters and are attached to each solar panel in a typical solar array. They monitor each solar panel's performance and can make alterations in order to optimize each panel's energy production. Microinverter manufacturers provide monitoring services by crunching large amounts of data, typically around 100 gigabytes a day according to Enphase CEO Paul Nahi.
Microinverters are typically found in residential solar PV systems and tend to drive up the price but more than make up for this by greatly improving performance. While central inverters can also improve performance their optimisation activity is generally driven by the lowest performing panels, so that if one panel is partly shaded, the whole array will tend to follow the performance of that particular panel. At present however microinverters only represent a tiny portion of the solar PV market although their popularity is growing.
Enphase considers the UK as a sizeable and growing PV market according to IMS which predicts growth in installations of 27.8 percent annually with a predicted capacity of 1.6 GW by 2016.