Epsom Man Vows to Fight Council Over Solar Panels
It seems Jack – or in this case Andrew – isn't going to win his battle with the giant, as an Epsom man's appeal to keep his solar PV panels looks to have failed.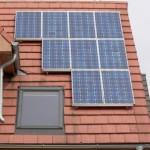 Last month we reported how a row had broken out between Epsom residents and the local council over the installation of solar panels, which were deemed responsible for damaging the "character and visual quality" of the local area.
Last October, forty-five year old Andrew Minhinnick paid £8,000 for the installation of solar PV panels onto his rooftop. But now, despite claiming he followed strict guidelines prior to having them installed, Epsom and Ewell Council have issued Mr Minhinnick with an enforcement order to remove them.
In most cases, it's no longer necessary to apply for planning permission to install the technology. Although it is always wise to check with your local council before hand because panels must be fitted to "minimise visual impact and impact to the amenity of the area", which is a precondition of 'permitted development'. But it's a grey area that can leave many solar installations vulnerable, if a council deems them inappropriate.
With his appeal seemingly having fallen on deaf ears, Mr Minhinnick now has ten weeks to remove them, although he's determined not to back down.
"Their attitude is 'if it doesn't look pretty then sod the environment'," he said.
"I'm not taking them down and I'm going to take this further because I think it is complete nonsense and we are talking to solicitors now," added Mr Minhinnick.
"Mr Minhinnick's appeal was refused because he did not demonstrate that the panels were 'permitted development'," said a council spokesperson.
In order to avoid similar situations from arising, Epsom and Ewell Council has announced plans to publish specific guidelines on the issue, which should be available from mid-October.