Drive For Solar Panels Continues
Interest in solar panels continues as homeowners look to renewable energy technology to help fight against soaring fuel bills.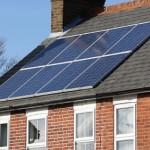 Recently released figures from the Department of Energy and Climate Change (DECC) have revealed that 28,608 solar panel installations have been carried out during the first 12 months since the launch of the feed-in tariff (Fit) scheme.
Thousands of homes in Yorkshire look set to be next in line to benefit from solar energy, with York having been selected as the latest location for the nationwide push to install solar panels. Up to 3,000 council-owned properties encompassing some of the poorest sections of the city could soon be fitted with solar panels, with about 40% of all energy used in the properties expected to be generated by the renewable technology.
The scheme is being highlighted in a series of open days, beginning on Saturday at the Tang Hall Community Centre, and tenants will be able to choose if they wish to take part in the scheme or not.
Counsellor Tracey Simpson-Laing, York Council's cabinet member for health, housing and adult social services, believes the project will be pivotal to alleviating the financial burden on householders in fuel poverty or on the cusp.
"A lot of elderly people and families with young children live in the council's properties, and these are two groups who are often affected by fuel poverty.
"The scheme will provide a welcome relief with a cheaper means of getting electricity while also helping protect the environment," said Counsellor Simpson-Laing.
Latest figures have revealed that the number of households in fuel poverty in the UK increased by one million from 2008 to 2009, reaching some five million.