1,000 rented properties in Wales to benefit from free solar
We're seeing more and more housing associations and social housing providers embrace solar power. Tenants living in South Wales are among the latest to benefit from free solar panels and cheaper energy bills.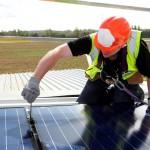 Around 1,000 rented properties belonging to Rhondda Cynon Taf Council in South Wales are to have solar photovoltaic panels installed in a move designed to tackle fuel poverty in one of the country's fuel poorest areas.
Nationwide Solar, one of the UK's largest installers of solar PV panels has been selected to install the free solar systems. The local authority homes are managed by RCT Homes on behalf of the council, who have estimated that its tenants should be able to reduce their annual energy bills by around £120 through the installation of the solar arrays.
Commenting on the project with Nationwide Solar Malcom Wilson, Deputy Chief Executive of RCT Homes, said the agreement was proof that social housing could still embrace large-scale solar panel installations and make it work for tenants. In spite of Government cuts to the feed-in tariff a growing number of social housing providers and local authorities see free solar as a win-win situation.
"For us it was never about the money, as we are more interested in attacking fuel poverty," explained Malcom, adding that the solar panels would make a significant dent in their tenants' carbon footprints.
Although the domestic solar sector has taken quite a knock over the last 12 months or so, Nationwide Solar believes the renewable energy has a positive future in the social housing sector, hence why the company was keen to provide free solar PV panels to thousands of tenants' homes. Managing Director Russ Cowan said that solar was still a "very viable and worthwhile investment".
Nationwide Solar has a proven track record in partnering with local authorities to assist tenants living in or facing fuel poverty become more energy efficient and reduce their energy costs. Its clients include Leicester Housing Association, Newark and Sherwood Homes, Rotherham Borough Council and Derby Homes.
Wales is in fact the most popular part of Britain to install solar panels. According to the Department of Energy and Climate Change (DECC), statistics have revealed that more than 23,000 Welsh homes have solar panels installed. Wrexham seems to be the hotspot; somewhere in the region of 3,000 properties have had solar PV systems installed.