Welsh renewable energy co-op installs its first solar array
A community owned renewable energy scheme established to tackle fuel poverty in one of the UK's fuel poorest areas is making headway with its first project, after carrying out its first solar panel installation last month.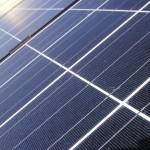 The Welsh renewable energy co-operative launched its first project to install solar PV panels onto the rooftops of 240 of Newport's low income fuel poor households and saw its very first solar array installed on 31st January.
The initiative was founded to develop low carbon energy projects in Newport, South Wales, Generation Community – also known as Gen Community – is aiming to alleviate fuel poverty in Newport and the surrounding area. A solar share offer was launched on 24th October 2012, which gave local residents and businesses the opportunity to buy shares in the project, ranging from £500 up to £20,000. A annual return of around 7% is anticipated for the scheme's investors.
In it's first week alone the initiative managed to raise more than £50,000. To date, that total now stands at £205,000 with some 75 investors getting on board, but should reach at least £390,000 – which is the minimum threshold – with a contribution from who have pledged to make up any shortfall. The project has set itself a target of £1 million, and has already attracted investors outside of Newport, including Sandra from London who brought shares in the project because not only does the scheme offer her a fair return on investment, but in doing so helped benefit the Welsh community.
"I am happy that someone else is directly benefiting, whilst I am getting a fair return," said Sandra, who lives in rented ex-council accommodation and isn't able to install solar panels on her flat.
The Newport solar share offer will remain open to the public until 25th February after its original closing date of 5th December was extended. If the project hits its £1 million target it should result in the community enjoying an annual energy bill saving in the region of £38,000, which would result in a carbon dioxide reduction of around 271 tones a year.
Commenting on the initiative, co-founders James Mansfield and Andy Heald said they were "excited to welcome and work with others who want to aid the fight against fuel poverty, and join our social impact community."