Coventry Cathedral to Go Solar
It may be a Grade-I listed building, but Coventry Cathedral is about to become very 21st Century, as staff are applying for planning permission to install more than £100,000 worth of solar panel technology on top of the building.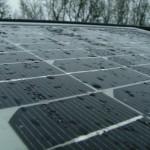 There has been a cathedral in Coventry for over 1,000 years. But Coventry Cathedral is facing a very modern problem, in terms of rising electricity bills.
Solar energy company EOS, an arm of Southam-based renewable energy business Alumet, is planning to install 178 solar panels on the roof, covering 200 square metres. The plan is to also include a digital display inside the building, which would show visitors how much energy the panels are generating from the sun.
"We are looking at putting a 50 kilowatt solar array on the roof and we hope it will significantly reduce our electricity bills," said executive director, Jane Woodward. "It would make us the first cathedral in the country to do it, and possibly the first in the world."
"The Church of England and the Archbishop of Canterbury are interested in the project for the reasons of environmental stewardship and climate justice," Mrs Woodward added.
"It's not just about saving money on our energy bills, we are committed to the idea of renewable energy and climate protection."
The team at the cathedral have to apply for planning permission from Coventry City Council, but for the project to be approved, they must also get the go-ahead from the Cathedral Fabric Commission of England. If approved, the work should be completed in time for the Queen's visit next year.
If plans are approved, it could make the cathedral the first in the UK – if not the world – to go solar and have rooftop panels installed. But Coventry Cathedral wouldn't be the first in the world to incorporate solar technology – Saskatoon Cathedral in Saskatchewan, Canada, has already installed solar technology in its stained glass windows.