Bradford Cathedral to Install Solar Panels
Installing solar panels to the roof of its cathedral will make Bradford's Grade 1 listed building the first Christian church in the UK to invest in solar energy.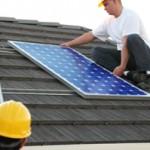 The English Heritage and the Cathedrals Fabric Commission for England has given Bradford Cathedral permission to install 42 solar PV panels to its south aisle roof, at a cost of £50,000.
Covering an area of 70 sq m (753 sq ft), according to Bradford Cathedral it will be the first in the UK to generate its own power from the renewable technology, with work due to get underway shortly.
Last year, Bradford Cathedral was awarded "eco congregation" status after having cut the building's carbon footprint. According to Canon Andrew Williams, the leader of the Cathedral's Eco Group, they have been working really hard over the last five years to become more sustainable.
"We're delighted to be the first cathedral to be installing PV cells on our roof," said Canon Williams.
"Whilst it would be naive of us to say that the financial benefits are not important, a key reason for doing this is to reduce our carbon footprint," he added.
The solar panels are to be supplied and installed by Cumbrian-based Sundog Energy. Company founder Martin Cotterell said they were "delighted" to have been chosen to undertake the iconic installation.
Work is expected to be completed by the end of August.