Ministers Offer Support to Solar Panel Campaign
A Government minister and two shadow ministers have given their backing to a solar panel campaign being led by one of the UK's fastest growing renewable energy companies.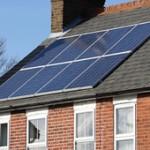 Following lobbying by Eco Environments' director David Hunt, and support from shadow energy ministers, Huw Irranca-Davies and Luciana Berger, the Minister of State for Energy and Climate Change, Greg Barker, has pledged to discuss the growing chaos surrounding the installation of solar panels with the Department for Communities and Local Government (DCLG).
The solar panel campaign was launched after a number of local councils, including West Lancashire Council and Eden District Council had told homeowners that they needed to seek permission before having solar panels installed.
This misinformation was given, despite Government guidance which states planning permission is not required unless someone is living in a listed building or in a conservation area, and Building Regulations are not needed as long as the homeowner uses a contractor under the Government's Competent Person Scheme.
"We are delighted that both a Government minister and two shadow ministers have taken up our campaign which seeks to bring an end to attempts by councils to make life difficult for homeowners trying to embrace renewable energy solutions," said the director of Eco Environments, David Hunt.