Could solar cost less than wholesale electricity by 2024?
A new study claims that solar power has the potential to be cheaper than wholesale electricity prices within the next 10 years – with Government help. By 2030 investment in solar photovoltaic panels to generate electricity could reduce household energy bills by £425 million.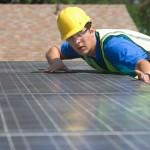 According to the study carried out by the Centre for Economics and Business Research on behalf of the Solar Trade Association, by 2030 around 18 million UK homes could enjoy low-cost energy. A win-win situation for both energy consumers and industry alike, it could mean a £25.5 billion boost for the economy, generating around 50,000 jobs. However, for solar power to reach its full potential, Government support remains crucial.
In the second quarter of the year, almost 17% of all energy produced in the UK was generated through renewables, according to the Department of Energy and Climate Change. However, only 1.2% was power generated from solar PV panels.
The solar industry has urged ministers to review the solar feed-in tariff for larger projects. Through the FIT scheme, households who have installed solar panels get paid for every kilowatt hour of renewable energy their systems generate. In the last four years, since the FIT was first introduced, industry's reliance on green subsidies has fallen by two thirds. But as it stands, without the Government adopting a stable policy on solar power, solar independence will remain more of a pipe dream than a reality.
Chief executive of the Solar Trade Association, Paul Barwell, said the potential benefits of solar energy for the British economy is immense, particularly with a vast potential for non-housing rooftop solar systems remaining untapped. But by moving the goal posts on its support for solar, the Government continues to put the solar industry at risk of damage, not to mention holding Britain back in renewable energy generation.
"We believe that Government support for solar energy should come down gradually, in line with falling costs, until solar electricity is consistently the same price as the market price for electricity," Barwell added. 
By introducing a stable, gradually decling support, the day will come when solar energy no longer needs the support of Government subsidies. The report has also revealed that within four years solar panel stations could in fact be cheaper to build compared to new gas plants.
Investing in solar panels is a sure fire way to bring down the cost of your domestic energy bills. Households should consider the advantages and benefits of solar panels. With solar panel prices around 70% cheaper compared to four years ago, it's a great time to invest in solar energy. Solar Guide's MCS accredited solar installers will provide you with up to 3 free solar quotes.