Tariffs to be imposed on Chinese solar panels
Imposing duties on imported Chinese solar panels has been the subject of rumour and speculation amongst the European solar industry in recent weeks, but it's now time to put the rumours to bed. Yes, we can confirm that the European Commission will indeed be imposing tariff levels onto manufacturers of Chinese modules.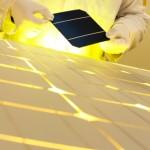 Back in April representatives from the Alliance for Affordable Solar Energy (AFASA) – a coalition of more than 450 European solar PV companies who have been lobbying against any imposed tariffs – made it clear to a European Commission hearing that imposing any sort of punitive tariffs, even duties as low as 15%, had the potential to destroy as much as 85% of demand for solar photovoltaic panels in the European Union because as it stands there isn't any room for an increase in solar prices in the current market.
Yesterday (Wednesday) the European Commission announced plans to implement duties as high as 67.9% on Chinese solar panels. The tariff levels are being imposed to counter unfair pricing and punish solar manufacturers for selling solar panels below cost to the 27-nation EU.
Averaging out at 47.6%, at least 100 Chinese solar panel manufacturers will be affected by the decision, although those that co-operated with the European Commission into the practise of "dumping" – the term given to selling cheap goods – will be subject to lower tariffs, starting at 37.2%. Manufacturers who didn't co-operate will receive higher levels.
Speaking to Solar Power Portal, a AFASE spokeswoman, Andrea Maibaum referred to a study earlier this year which analysed the impact duties would have on the PV value chain. According to the Prognos report, imposing levies would cost Europe around ?27.8 billion. She added that "punitive tariffs would cost far more jobs than they save and won't help to solve the structural problems of European manufacturers."
Hitting back at the study, an EU source has claimed that the job loses tariffs could have on the solar industry throughout Europe had been "overestimated" and neither does the report take into account "the EU industry risks to completely disappear without the introduction of measures."
A provisional decision, the official tariff levels won't come into effect until they have been published in the Official Journal of the European Union. The European Commission is waiting on the results of a consultation with member states.
Chinese companies currently account for around 80% of the European market share. Just less than a decade ago they had almost zero.
Commenting on the news the Solar Trade Association said it was very much against "the imposition of any duties which restrict free trade and the growth of the solar market." CEO Paul Barwell said if the proposed provisional levies were imposed the UK solar market, particularly large-scale ground-mounted solar PV, would be damaged.