Britain Basking in Solar Power Boom
With businesses and homeowners rushing to take advantage of feed-in tariffs, Britain is enjoying something of a solar power boom, as solar power capacity has risen by more than 18-fold.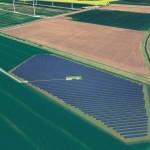 Fulled by the Government's feed-in tariff (Fit) incentive, solar PV panels are seen as an attractive investment, providing owners with not just reduced energy bills but a steady income for the power they produce.
Newly released figures from the Department of Energy and Climate Change have revealed that from April to June, nearly 34 megawatts (MW) of new solar generating capacity was added to the UK grid. The biggest amount ever in a single quarter, it brings the UK's total capacity to nearly 122MW, with more than 14,500 new solar installations in the last quarter alone.
However, it's not just the feed-in tariff that's responsible for driving the boom. The  price of solar panels has plummeted and installations costs are also down.
But the boom could soon face something of a stumbling block, as changes to the feed-in tariff from 1 August will see large-scale solar projects face considerable reductions in the subsidies available. Large installations of more than 50 kilowatt (kW) capacity will lose the higher rate of subsidy which, for many developers, will not be enough to make them economically viable.