US solar PV market expands by 120%
2012 has so far been a good year for the solar photovoltaic market in the US  which seems to be undergoing something of a boom, having seen a 120% growth in solar PV installations in the first six months compared to the same period a year ago.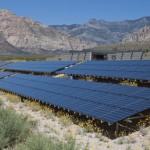 In the first half of the year installations have hit 1.7GW which, according to the latest report form market research company IMS Research equates to a growth of more than 120%. The firm has estimated that by the end of 2012 PV installations in the country will have reached near on 4.3GW and as a consequence of that huge increase in demand the US is likely to take the title of the third largest PV market in the world.
Commenting on the country's solar boom, Ash Sharma, IMS Research PV Research Director said: "MS Research remains optimistic about the potential for the US PV market, and we predict it will grow to at least 3.5 GW in 2012 and become the world's third largest solar PV market.
"The longer-term outlook for this market is less certain, although the speed at which it is developing so far in 2012 provides some encouragement."
Despite a 3GW decline in growth in the European market this year – which has been driven by cuts to feed-in tariffs in key markets like Germany for example – the market research firm is predicting that by the end of 2012 the PV market globally will grow by at least 3GW to 31GW, driven in part by the current US solar power boom.