1,200 Essex Council Homes to Get Solar Panels
Almost 1,200 council homes in Essex are to have solar panels installed, after councillors gave the project the go-ahead.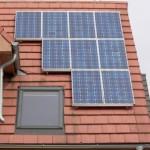 According to Harlow Council, the environmentally-friendly initiative has the potential to cut tenants' electricity bills by up to £190 a year, while reducing the town's annual carbon emissions by 953 tonnes.
The council's maintenance contractor Kier Harlow will be responsible for meeting the installation and maintenance costs for the photovoltaic panels. The authority will be paid "roof rent" by the firm, which will recoup its outlay costs through the Government's feed-in tariff (Fit) scheme.
The first phase of the scheme will see solar panels fitted to 1,196 council-owned properties by March 2012. Another two further phases of a similar size are planned for the following year.
"This is a very progressive deal for Harlow. It means residents get cheaper bills while we make big cuts in our carbon footprint," said Councillor Clive Souter.
"The important thing is that it has no cost to our tenants. It takes just one day to install panels that will deliver cheap electricity for quarter of a century," he added.
Harlow Council plans to use money earned from the project to subsidise other energy-saving initiatives for those housing properties unable to take part in the solar panel scheme.
Tenants will be consulted before any installation work is carried out, and will have the option to opt out of the project.