Wrexham fast becoming a sustainable borough
Sharp Solar has teamed up with Wrexham Borough Council to install 5MW of solar PV panels which is helping transform the town in North Wales into one of the country's most sustainable boroughs.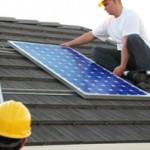 The £15 million project – one of the UK's largest council led projects to date – has seen 3,000 solar panels installed onto the council's properties, which includes 150 individual flats. Helping to cut carbon emissions by a massive amount, an estimated 3,000 tonnes has been wiped off the council's annual carbon output.
Aiming to become a leader in sustainability, in addition to the obvious environmental advantages, the borough's social housing tenants will benefit from reduced electricity bills and achieve savings of between £75-250 annually.
Leader of Wrexham Council, Cllr Neil Rogers said the solar PV project has played a vital role in helping the borough become more sustainable and the council wanted to use a quality product which was known for its reliability.
"It is already bringing benefits to our housing tenants and helping us meet our targets to reduce carbon emissions and energy use and help tackle fuel poverty," added Cllr Rogers.
The project has seen Wrexham based Sharp Solar employ their new solar PV- kit product for the first time in a major installation.