Tenants to Get Solar Panel Boost Thanks to Solar Europa
Up to 200,000 council and housing association tenants across the country could be in line to receive free solar panels, thanks to a South Yorkshire based solar panel firm.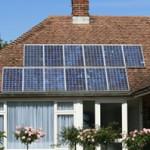 Solar Europa, who are based in Dodworth, Barnsley, has secured financial backing for the £1.2 billion project, and is hoping to create up to 3,000 related jobs across the UK over the next four years.
In what the company is claiming could well be the UK's biggest ever deal for free solar power, Solar Europa says the deal could potentially slash every tenants' electricity bill by up to 50% - and could also be a financial lifeline for cash-strapped councils and housing associations who will earn substantial rental incomes over the next 25 years. The proposed scheme could also help the Government hit its carbon reduction targets.
Solar Europa is set to open discussions with councils and social landlords, with the first installations due to start as soon as September. Company spokesman David Hawkins described the deal as a 'win win' situation for local authorities, housing associations and their tenants.
"Financial constraints have, until now, meant many housing associations and local authorities have been unable to invest in much-needed renewable technologies," said Mr Hawkins.
"Installing solar panels as part of a wider energy-efficiency programme can help alleviate the problems of high energy costs for tenants," he added.