Welsh housing association to install 10,000 solar panels
A housing association in South Wales is set to install 10,000 solar PV panels on its properties, and has turned to Strategic Energy to undertake the work.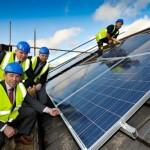 Based in Cardiff, Hafod Housing Association prides itself on building homes people want to live in. The organisation is committed to making a positive difference to the lives of its tenants and the communities they live in.
They have identified solar PV as an ideal solution to help tenants struggling in these tough economic times reduce their energy bills. With 1,000 installations in the pipeline, the scheme will see approximately 10,000 solar panels fitted. The housing association will be eligible for the higher feed-in tariff (Fit) rate of 21p per kilowatt hour before the tariff drops to just 16p from 1 August.
Strategic Energy have a wealth of experience when it comes to renewable energy and have installed solar panels on numerous other housing association properties belonging including St Vincent's Housing Association in the North West and Cannock Chase District Council in the West Midlands.
Commenting on the installation, Strategic Energy Director Martin Davidson said: "This is the latest social housing contract we have won and clearly shows the FiT scheme is far from dead. It is refreshing to see Hafod Housing Association recognising the many social benefits installing PV panels will bring to their communities."
"Our pure equity model is free for landlords so they do not lose out financially and although the rates of return are not as lucrative as they were before the government cut the tariffs, the advantages for the community - such as reducing tenants' fuel bills and carbon emissions and creating sustainable jobs – are tremendous."
Hafod Housing Association is keen to introduce ways to cut their carbon footprint across the business and the solar panel installation is one way of achieving their goal.
"The reduced FiT rates means the scheme is no longer able to yield the returns it initially could, but Strategic Energy's free system means we are no worse off financially so there are only positive outcomes for us, our people and our communities," commented Hafod Housing Association's Managing Director, Alan Morgan.