Voices to Be Heard As 'Cut Don't Kill' Campaign Rallies Westminster
The 'Cut Don't Kill' campaign – initiated by Our Solar Future – has announced a meeting place for their rally in Westminster next week.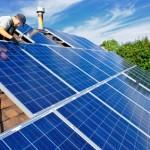 Campaign organisers are urging solar installers to be seen and heard by joining forces in an effort to try and get the Government to back down on their recent proposals which will see solar feed-in tariff (Fit) subsidies slashed by more than 50%.
Hosted by the Solar Trade Association (STA), which heads up Our Solar Future, the group is set to met in the Emmanuel Centre on Marsham Street. The venue has been chosen because it is just a few minutes walk from Parliament, where 'Cut Don't Kill' supports will be marching to.
People will be gathering from 12.30pm onwards on Tuesday 22nd November, before heading over to Parliament at 2.30pm.
While organisers are hoping for a strong turnout, there is the strong possibility that solar installers will have more pressing things to do – like trying to fulfill their order books and get as many solar PV installations completed before the December deadline hits.
To add your weight to the campaign, you can sign the petition by going to www.oursolarfuture.org.uk