UK Veg Company Goes Solar with £1.5m Installation
A Suffolk-based UK vegetable packing and farming business has invested in solar panels in a bid to cut its carbon footprint and its energy bills.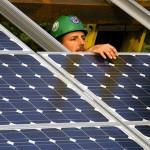 The £1.5 million solar PV project has seen Frederick Hiam install solar panels on eight roofs at its site in Brandon, Suffolk, with the help of leading renewable energy provider RenEnergy. Estimated to have an annual output of 637, 687 kWh, the system is expected to make 329 tonnes of carbon savings over a 12 month period.
The family-owned business farms some 9,000 acres and specialises in the production of potatoes, onions and parsnips. With farms located in Suffolk, Norfolk, Cambridgeshire and Pembrokeshire, the company is a heavy electricity user, and the main impetus for installing the solar panels is to lower the firm's ever growing energy bills.
Frederick Hiam first started to look into using renewable energy sources several years ago. The company decided to invest in solar energy because it uses sunlight, a free natural source of energy.
"We have installed 326 kW on our Frederick Hiam Foods Factory and we will use virtually 100 per cent of the generated power, there is another 235 kW on six onion stores which will use all the power generated when the stores are full of onions, when empty the power will be exported to the grid," said Frederick Hiam's financial director, Clive Malpass.