Proposed Suffolk solar park to supply 25,000 homes
Proposals to build a 25MW solar park in Suffolk at a cost of £40 million have been revealed in a partnership between Hampshire based Hive Energy and leading technology company Moser Baer.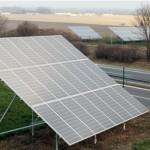 Some 160 acres of farmland in Hacheston, a coastal village in Suffolk, will be home to the proposed solar park. If the proposals get the go-ahead enough energy will be produced to power 25,000 homes every year.
Before the proposals are submitted to the local planning department, local residents will be given the opportunity to have their say and voice their comments. Many locals seem to be open to the park and the idea of using solar panels to generate renewable energy. If the local community is seen to be broadly supportive of the project then a formal application will be submitted to Suffolk Coastal District Council's planning committee.
"We are waiting for consultation responses and, depending on the feedback, may want to alter our plans before submitting an application," Hive Energy's Chief Executive Office Giles Redpath told the East Anglian Daily Times.
"Being close to the sea, Suffolk has particularly good light and a lot of cooling wind, so the panels can perform better. There is already a very good substation in place which can be used for renewable energy," he added.
A council spokesman said: "National planning policies encourage councils to support the principle of renewable or low carbon energy sources but any decision must of course take account of the local environmental impacts and that is what will have to be weighed up if a formal planning application is submitted to the council for this proposed solar farm."
The land where the proposed development will take place is no longer being farmed, and as part of the proposals a wildflower meadow will be planted which will offer a good environment for local wildlife, fauna and flora.